If you ask Victor Captain how he became involved in the arts, he may tell you it is a long story. But one thing he will surely mention is his love for the field and those persons who inspired him to become a renowned Rupununi artist.
Captain, who hails from the rich cultural community of Surama in the North Rupununi, has been a professional artist for more than a decade. According to him, he started out by drawing with pencils during his days at the Annai Secondary School.
"Prior to meeting George Simon, I used to do pencil drawings. And during that time, I was in secondary school and I learned to do drawings there," he said.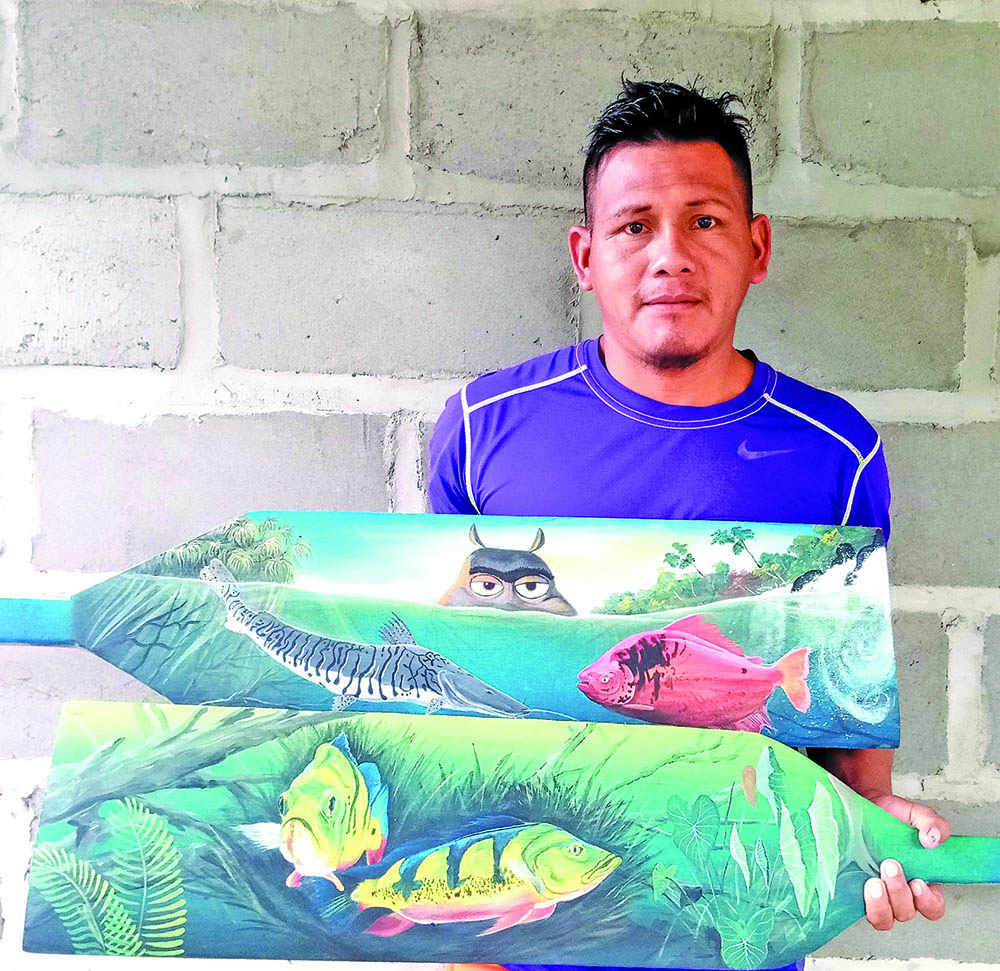 One of Victor Captain's prized paintings, entitled "Tears of Awarmie", was on display during an exhibition in 2020 (Photo credit: Keri Phang)Captain said he met the late exceptional artist Dr. Simon in 2009, when the latter introduced the "Moving Circle of Artists" to Surama, and Dr Simon had asked him if he was interested in painting. And after his affirmation, he decided to pursue the field.
"From there on, I took one step forward and tried to do my best," Captain said. Most of Captain's paintings are based on his deep-rooted sense of understanding of his culture, shamanism, and stories about the Amerindian people.
Captain said that in 2010 or 2011, he participated in an art exhibition during the Rupununi Music and Art Festival held at the Rock View Lodge at Annai. His paintings were well received by the participants and visitors, and this encouraged him to undertake more paintings as he developed his skill in the field. And as his reputation continued to evolve, Captain said, he received a major boost in 2015, when his paintings were introduced to the United States while he participated in art exhibitions in Virginia. His two paintings were placed on display at the University of Virginia and at the Commonwealth Senior Living Quarters in Hampton, Virginia respectively. His paintings were well received and he was even featured in C-VILLE Weekly, one of Charlottesville's leading newspapers.
"Most of the Amerindian people, they're losing their culture. And I am one, so it's the loss of my language," he told the newspaper. "What I'm really trying to do is keep the culture going, but in art form. The stories and other things, people forget the stories and pretend they are not Amerindian; they want to be someone else," he declared.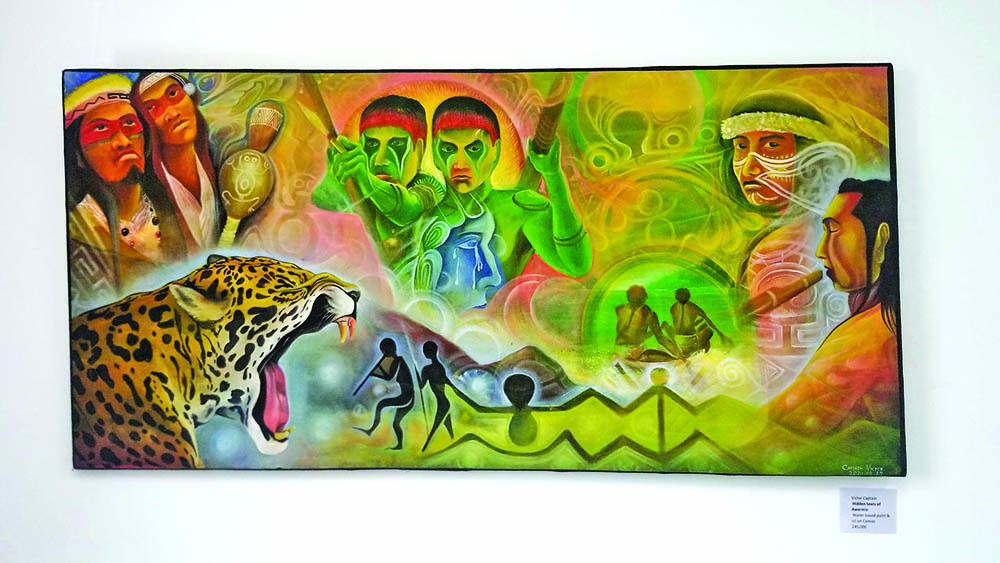 He told <<Guyana Times>> that he has switched from canvas painting to paddle painting. "The difference is canvas painting is much easier to paint on because it is similar to cloth. But the paddles are made out of wood materials, which makes it a little difficult," he said. He noted that he is honing his skills in the paddles, so that he can master more methods of painting.
These days, Captain has settled in the tourism-rich community of Rewa, and he noted that he has blended in terms of transitioning to live in that community. He told <<Guyana Times>> that he has lived at Rewa for the past five years after marriage. He said he plans to pursue teaching, and it is one method he is positive about in terms of passing on his skills in the arts to the younger generation.