Twenty-four-year-old Nicholas Alphonso is an up-and-coming musical sensation who grew up with his parents and five siblings in the community of Henrietta on the Essequibo Coast in Region Two (Pomeroon-Supenaam). He attended the CV Nunes Primary School before being awarded a place at the Anna Regina Multilateral School after writing the National Grade Six Assessment (NGSA) examinations. He completed his secondary education by sitting eight subjects at the Caribbean Secondary Education Certificate (CSEC) and being successful in all, obtaining distinctions in the math and business results.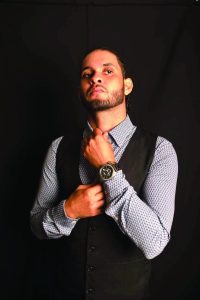 Nicholas hails from a family which, although not having a musical background, loves music. At an early age, he took a decision to learn to play the guitar, but did not own one, and, as such, asked his father to purchase one for him. At that time, his family was trying to make ends meet, and he had to make a critical decision to forego either the bike he had been begging for for over five years or the guitar. He chose to receive the guitar, which meant he had to walk to school.
Having obtained the guitar, he had no idea how to use it, since he had no access to music teachers or personal internet service at his home, and he never had money to use the nearby internet café. He later met a guitarist at a church camp, and that person was generous enough to show him how to play at least four chords. Overly excited, he went home and started to practice, and eventually mastered the technique. He then used his lunch money to print two pages of guitar chords, and kept practising at home.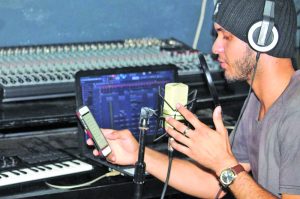 He practised until his fingers literally bled, and in the end it was worth the while. He eventually learned to play the guitar, and with that came an awesome feeling. Although the guitar is not the only instrument he plays currently, he would love to play the saxophone.
Alphonso writes his own music. In fact, he has written about a thousand songs since he started writing – many of which he has no idea from whence they came. Most of the songs he wrote at that time were Rap and Hip-Hop, but since 2020, he has started to compose Dancehall/Reggae lyrics.
To date, Alphonso has written and recorded about 200 songs, and remains open to suggestions and feedback. Moreso, he is willing to meet other writers to create something even more amazing.
His target audience is primarily the youth, but almost everyone can relate to his songs, because he tries to cater to any age, gender, race, ethnicity, or background.
"I try to make my topics as broad as possible, so anyone can relate. But, at the same time, I truly hope the youths pay more attention to the messages in my pieces. I feel this generation is lost. Everybody thinks they have it the worst, and people tend to want to give up when they feel like life is unfair to them", Alphonso told Sunday Times.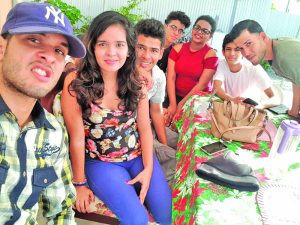 He explained that the purpose of most of his songs is to show the youths that he and many others have gone through rough patches in life, but, with perseverance, have overcome the challenges.
He says, "If we did, then you (listeners) can too."
Alphonso is currently working on some different genres of music. "I am working on some songs in the girls' song arena, some in the party songs' arena, and these were songs I would not have thought of doing before, due to the vulgarity they seem to encourage. But I'm trying to acquire my own style of writing to those types of songs; so, hopefully, I can keep the same vibe without sacrificing my views and personal preferences."
One of his hits, "Born Great", which became a hit during the pandemic, was heard by a live audience when he performed it at the "One Guyana" Concert at the Guyana National Stadium back in 2021. While that experience was phenomenal, he was never again given opportunity to perform, but has done so at private events and parties in opportunities for which he is grateful.
He maintains that he has a passion for writing. "I love the different voices and the melodies and instrumentals and all that, but for me it's more about the writing. I love poetry writing. I love hearing artists express themselves and their thoughts in lyrics, and (I love) the way they word their songs."
From a young age, Alphonso has been admiring several renowned artists/songwriters, including Hozier, Ed-Sheeran, Adele, Eminem, Russ, Royce da 5'9, Jay-Z, Vybz Kartel, Alkaline, and some others.
"If I had a chance to perform with any artiste in the world, I would not be able to decide. Honestly. There are so many artists that if I get to perform with, it would mean the world to me. I just have a love for music as art, I can't choose one particular artiste over another. Like how do you choose between a Picasso painting and a Shakespeare sonnet? They're both completely different artistes in completely different fields, but brilliant just the same," he explained.
Nevertheless, he recalled the best advice given by another musician was to keep creating music. "Keep writing, keep recording. That was from one of our very own local performers way before the hype and attention that the Guyana music industry is getting now. That was advice from "cKush."
In the same breath, he advises youths to invest in themselves and their craft. He explained that no one cares about you unless you have a hit song or something to grab attention out here.
"That's the sad truth. You can't find a hit song or gain attention in the music world if you are not creative. And you cannot create if you do not invest. I'm not just talking invest financially in buying your own equipment and such, I'm also speaking of investing time. Make time to learn every aspect of the industry. Learn how to record, how to mix and master, how to make beats even," he has admonished.
"Even if you're not perfect at those things, still learn them. Because when you have to depend on people to do things for you, you will get (outshone) by the guys like me, who invest our time in learning those same things you beg and wait for others to do for you. And that's the hard truth. Because look at most of the artistes that make it, they're poor. And one of the hardest parts of their journey, they will tell you, was finding money for studio time. Take that struggle out of the equation, and what do you have? You have the power now to focus on your craft," Alphonso related.
Meanwhile, he believes that a lot is being done for musicians in Guyana, while adding that critical information needs to be more available to everyone. In addition, he feels that there is need for an Artistes' Registry in Guyana.
"We don't have a registry of the known artistes in Guyana that are recognised by the Government of Guyana. Every other country in the Caribbean has one, and it makes it much easier for musicians to procure visas and such for abroad travels, which will in turn help us to develop our craft more and increase our networking scope," he said.
On a lighter note, the Essequibian is not married and loves to eat potato roti. His favorite colours are black, grey and white.