Mekyla Belgrave, the visually impaired teen whose story has touched the hearts of many, has received much-needed assistance after members of the public responded positively by donating replacement gadgets the teen utilises as she prepares to write an additional three subjects at the Caribbean Secondary Education Certificate (CSEC) examinations.
Two weekends ago, Guyana Times featured Belgrave and her preparations for this year's examination. Her mother, Celeste Hercules noted that while her daughter is aiming to pass the subjects, she plans to sit at the CSEC exams, her laptop and mobile phone were damaged. Belgrave had both of her eyes removed as a five-month-old baby when she was diagnosed with retinoblastoma, which is a cancer of the eyes.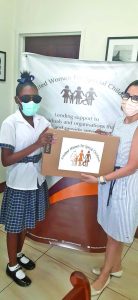 Her mother explained that Belgrave, a student of the North Georgetown Secondary School, utilises the "talkback" feature on both devices and while the family tried installing the feature on another phone, the feature was not operational on that device.
Hercules told Guyana Times that following the publication of the story two weeks ago, an official attached to the United Women for Special Children, a non-governmental organisation, reached out to her and donated a new laptop computer. Another individual donated a mobile phone for her daughter to use as she prepares for the exams. Hercules said that she and her daughter are both thankful for the assistance they have received.
The United Women for Special Children noted on its Facebook page that it was so impressed by the teen's resilience as mentioned in the story that the body decided to replace her malfunctioning laptop. "UWSC applauds and supports this determined young lady who is an inspiration to all," the body said.
Belgrave overcame a number of challenges in 2021, including the COVID-19 pandemic and she managed to secure passes at three subjects at CSEC examinations. She secured passes in English A, Social Studies, and Human and Social Biology at the 2021 sitting of the regional examinations. At the time she was still in Fourth Form at the North Georgetown Secondary School when she sat the examinations. However, she wrote the examinations privately through the Guyana Society for the Blind which came to her aid when the pandemic hit the public school system.
This year, the teen is ramping up preparations to sit another three subjects at the exams although this time, the subjects, English B, History, and Home Economics are a bit challenging for her.
Her mother told Guyana Times recently that Mekyla is preparing to write the examinations at North Georgetown Secondary with assistance from the Ministry of Education's Unit for the Blind.
Belgrave attended the St Agnes Primary School and she managed to obtain 494 marks at the National Grade Six Examinations in 2016. Her mother explained that when her daughter was five months old her eyes appeared glossy. Several months later a scan revealed that a cancerous tumour was affecting her eyes. In 2005, she was diagnosed with cancer following a visit to the Eric Williams Medical Sciences Complex in Trinidad and Tobago and following extensive discussions with the family, medical personnel there undertook surgery to remove both of her eyes. Although the surgeries were performed close to her brain, it never affected her cerebral functions.
Her rise throughout the school system thus far has surprised many and her mother has described her as a blessed child, noting that she has beat the odds thus far as she conquers the many challenges she has faced since she was a baby. (Alva Solomon)