…urges communities to reject racism, embrace development
…Govt committed to promoting equality, justice – PM
On his third visit to Pakuri (St Cuthbert's Mission), President Dr Irfaan Ali has made it clear that he would continue to work directly with the people on the ground to develop communities throughout Guyana, all while dismantling intellectual racism from the bottom up.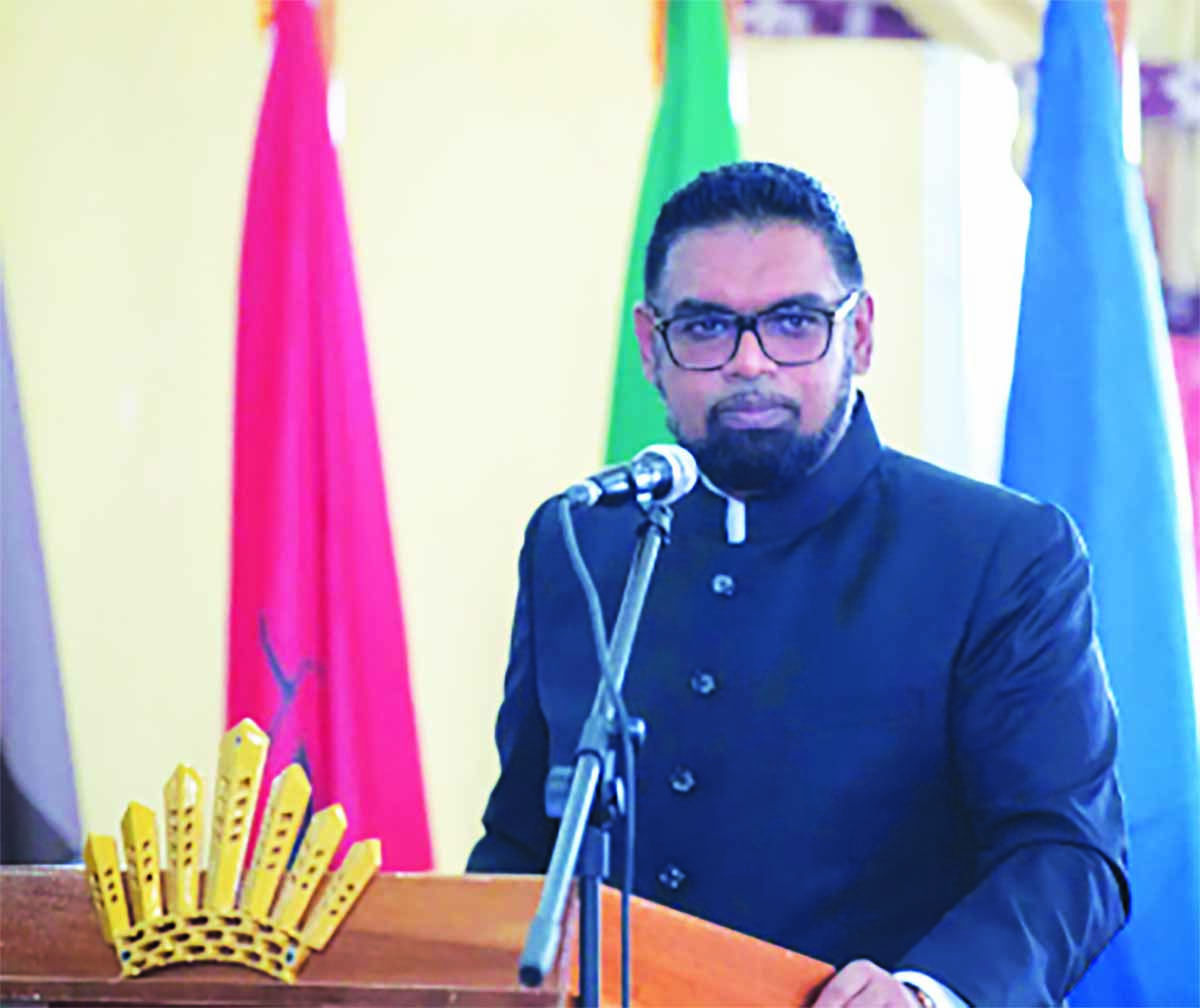 The President's comments come more than a week after the firestorm created by Working People's Alliance (WPA) member Tacuma Ogunseye during a meeting in Buxton where he made comments that have since been denounced by cross-sections of society and even members of the Opposition.
President Ali assured Pakuri that the community was integral to development and he would continue to visit communities across the country and work with residents on the ground, even while "intellectual racism" continues to be spouted by 'leaders'.
"I want to assure you that you are an integral part of the development agenda. No community is going to be left behind. Whether you're on the highway, the hinterland, riverain community or urban centre, we are going to go there and meet you. This is my third visit to this community. And every single community we are trying to visit.
"We want to hear from the people themselves. I believe, very strongly, that those at the top who seek to use all kinds of unethical ways to divide us and separate us as a people will fail. They will fail, because I will work at the bottom with the people of the country," President Ali further said.
In a message of unity paired with determination, the President made it clear that it was the people who must drive the change and moreover, also take a stand against racism. For his part, he assured that he would continue to endeavour to dismantle racism.
"I will work with you individually, in your communities. And we together, the people of this country, will dismantle the intellectual racists that exist in our country who always want to divide us. That cannot take us forward," the President said.
"It is us; it is you on the ground who must show them, demonstrate to them that you don't want to be a part of that. You want to be in a country that is united, strong, free and one in which development comes to your community and life. That is what is important for us. And that is what is important for the people of this country and for the development of our country."
Elimination of racial discrimination
Incidentally, today marks the United Nations' International Day for the Elimination of Racial Discrimination. In a statement, Prime Minister, Brigadier (Retired) Mark Phillips assured that the Government remained committed to ensuring citizens' equal access to benefits from Guyana's development, including in education, healthcare and employment, regardless of race.
"We will not condone any form of discrimination be it in the workplace, in the access to education, health, security and all other areas. However, like many other nations, our history depicts instances of racial conflict that have left deep scars on our people," the PM wrote.
"While confronting this reality and acknowledging the painful episodes of our past, we must continue to forge ever forward to create a future free of inequality. As leaders, we are responsible for creating a peaceful, productive and prosperous environment where every citizen is valued, respected, and feels a sense of belonging, regardless of ethnicity, race, or religion."
He, therefore, noted the importance of leaders leading by example, adding that the People's Progressive Party/Civic (PPP/C) Government was committed to implementing policies and programmes that promote equality and justice.
"At the same time, we must also recognise the importance of dialogue and engagement among different ethnic groups. We must work to build bridges of understanding and promote cultural exchange, fostering a sense of community and shared identity. On this day, let us renew our commitment to equality, justice, and non-discrimination."
"Let us stand together as one Guyana and work towards a future where every person is valued and respected. I want us all to be reminded that the struggle against racial discrimination is ongoing and requires every citizen's collective effort," the PM said.
ERC
The Ethnic Relations Commission (ERC) also released a statement, using the occasion to reaffirm its commitment to promoting harmony and good relations in Guyana's multi-ethnic society.
"This observance is a pertinent and well-intentioned desire by the UN to promote racial and ethnic harmony everywhere. The ERC is resolute that the UN observance worldwide will further promote the much-needed awareness to stop and prevent occurrences of prejudice based on an individual's racial or ethnic background.
"Moreover, the ERC recognizes that the elimination of those prejudices, along with ignorance, is paramount for the preservation of peace and brotherhood. The Commission is, therefore, committed to Guyanese of all ethnicities for the sake of a stable society and upholding the rule of law," the ERC further said.
According to the ERC, Guyana's multi-ethnic society faces many challenges that date back to the varying levels of discrimination faced by our foreparents. As such, the United Nations' International Day for the Elimination of Racial Discrimination is a timely reminder to work together and rid societies of racism. (G3)