By Michelangelo Jacobus
"We are like the Jeffersons; we're moving up!" were the words of President of the AAG (Athletics Association of Guyana), Aubrey Hutson, in an interview with Guyana Times Sport on Monday.
Hutson told this publication that Guyana was able to successfully host the South American Youth Championships, but he acknowledged that a few areas still need to be worked on.
Asked what is next for the AAG, Hutson pointed out that while the AAG remains focused on advancing the development of athletics in Guyana, he feels that body does not get the recognition it deserves.
"I don't think the AAG gets the amount of recognition that they deserve. We have athletes who are highly ranked in the world, (and we have done better) than any other sport in Guyana."
He highlighted: "Troy Doris had performances as a senior athlete (that) ranked as high as seventh in the world. We have Natricia Hooper ranked fourth in the world as a junior performer… But the association doesn't get the recognition for the work that we are doing. I am not looking for anyone to shower praise on Hutson or the association and that kind of stuff."
He called on Corporate Guyana to look at the market value that athletics in Guyana has internationally, and he explained that there are still quite a few international events coming up in the latter half of the year. "We still have, before the end of the year, PAN-AM Junior Championships to be held in Peru or Ecuador; the World Youth Championship in Nairobi, Kenya…..the Commonwealth Youth Games in the Bahamas… our own South American 10k that will run off here (Guyana), as well as the South American Senior Championships."
Guyana amassed a record haul of 25 medals in the South American Youth Championships, tripling their previous total of eight, garnered since the inception of the championships in 1959.
Guyana Times Sport enquired about a long term development plan to further enhance Guyana's vastly improved athletics pool, and Hutson responded: "I keep hearing that Hutson has no plan for the development of athletics, but I answer them every time we go to competitions. It is not by fluke or luck that it is happening in my time, and it wasn't happening before. There is a plan that says 'athletes first', which is contrary to what happened before…
"We (AAG) spend over 90% of our budget on direct athlete development. So if you know you want to come into athletics and be a part of the programme that we have for development, understand that there is a sacrifice that you as an official have to make, because our focus is raising the athletes' level of performance," he explained.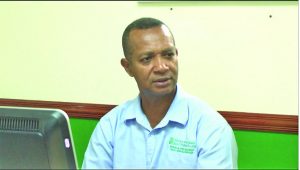 Hutson has said he would welcome persons who are seeking to be a part of the development of athletics in Guyana, but he cautioned: "If you have a programme that you'd like to bring to the table, the first thing that we (AAG) examine is: 'How does this aid in the development of athletics?' Not 'how does it get me to go to Kenya, or on a trip somewhere."
Hutson has praised the contributions of the various coaches in Guyana, and commended their involvement in the development of the various sporting disciplines.
"Once I've laid that foundation on where I stand, we're constantly examining programmes coming from our coaches… And I must tell you there is (a very) harmonious relationship among our coaches now. Johnny Gravesande, [Moses] Pantlitz, Julian Edmonds, [Robert] Chisholm, all these guys understand that hey! This is a golden opportunity to develop a product called the Guyanese athlete," he explained.
"My focus is constant development. Every time we go out there we must do better. Every time our athletes go out there they must do better…" he declared.
He pointed out the following: "Kenisha Phillips ran her fastest time ever in her career last weekend. That is a sign of improvement for me. Even if she did not medal, she is getting better and better, and one day we're gonna hit the jackpot."
Athletics is at an all-time high in Guyana, with the current crop of junior athletes performing admirably at recent International meets such as the CARIFTA Games, wherein Chantoba Bright, Compton Caesar, Anfernee Headecker, Natricia Hooper and Claudrice McKoy all medalled in their respective events. At this past weekend's South American U-20 Games, held at the Leonora facility, the quartet all medalled again, while Samuel Lynch, Onasha Rogers, Kenisha Phillips, Timothy Sealey, Terrence Fraser and Dennies Roberts also copped medals for the host nation.