The Belle Vue Sports Club have defeated the Canal Number 2 Sports Club by 7 wickets, with 22 balls to spare, in a T20 encounter played last Sunday at Canal #2 Sports Club ground.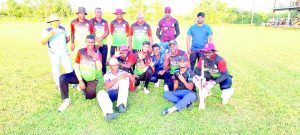 This has been thanks to Ryan Seecharran's 35 and excellent bowling from the Belle Vue unit.
Assuming that playing on home turf was going to be easy, Canal #2 Sports Club won the toss and chose to bat first. They posted 106-9 in their 20 overs largely because the Belle Vue side produced an excellent bowling performance to limit them to a meagre total. Their top-scorer was Chabiraj Ramcharran, whose 45 consisted of 1×4 and 4×6, and Danny Looknauth produced 13 runs, which included 1×4.
Bowling for Belle Vue Sports Club, Dyal Rajpat bagged 3 wickets and Lucian Sam chipping in with 2 wickets, while Randy Ramrup, Dev Seepersaud, Abdool Gannie and Safraz Baksh each had one wicket.
Belle Vue, in reply, made 110-3 in 16.2 overs. The visitors enjoyed themselves as they played each ball on its merit, resulting in their runs coming easily. They attacked when given opportunity, and did not choke under pressure, which resulted in them emerging victorious.
Leading the charge to victory, Ryan Seecharran scored 35 runs, which consisted of 3×6; Kerwin Bennett produced 23 not out, which included 1×4; Devindra Persaud made 19 runs that consisted of 2×4 and 1×6; Krishna Singh's 11 included 1×6, and Devon Harris's 6 not out came from a maximum.
Bowling for Canal #2 Sports Club, Emmanuel Martin, Vishwanauth Jadunath and Safraz (only name given) each took one wicket.
Members of the Belle Vue Sports Club would like to express their extreme gratitude to the Canal Number 2 Sports Club for hosting them, as the highly riveting encounter was played in a general spirit of camaraderie and sportsmanship. Also, with this victory, the Belle Vue Sports Club are currently 5-1, having won 5 matches so far in this season under the leadership of skipper Randy Ramrup.