Road to 2020 Under-19 Cricket World Cup…
– CWI Regional Under-19 tournament to be hosted in Guyana
By Brandon Corlette
The Cricket West Indies (CWI) Under-19 Coach, Graeme West is presently in Guyana to continue the numerous programmes for the 2020 Under-19 Cricket World Cup, that will be held in South Africa. West is presently involved in a three-day assessment camp with the Guyanese players who were selected to the Windies Under-19 training camp. Kevlon Anderson, Ashmead Nedd, Sachin Singh and Kelvin Umroa are the selectees, who are currently involved in the three-day programme.
The three-day program that focuses on cricket skills and fitness will conclude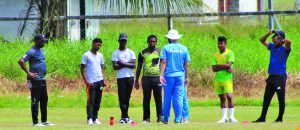 today Thursday, January 24, 2019, at the Everest Cricket Club. The 20-man Under-19 squad made their first appearance in a training camp in Antigua, December last.
West is on the verge of visiting Jamaica, Barbados, and Trinidad and Tobago to interact with the Windies Under-19 players and the local coaches.
West told this publication that the 20-man squad selected may not be the final squad since CWI Regional Under-19 tournament is scheduled to play in July-August 2019 in Guyana, which will feature the three-day format and the 50-over format.
"If a player performs outstanding in this tournament that is outside of the 20-man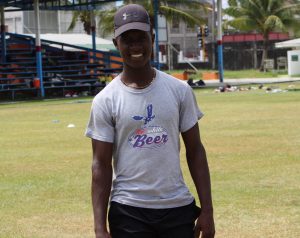 squad, there is every chance of him gaining selection for the Under-19 Cricket World Cup final squad," West told this reporter.
The visits to the various countries will greatly assist West, since he will be spending more time with the players. These players were selected from the 2018 Regional Under-19 tournament that occurred in St Vincent.
West is an Englishman, who joined the West Indies coaching team since 2012 and has guided the Shimron Hetmyer-led West Indies team to a World Cup title in Bangladesh, early 2016. The confident Englishman is seeking the perfect preparation for the International Cricket Council (ICC) Under-19 World Cup that is slated for January and February 2020 in South Africa.
CWI has taken this initiative to introduce the Caribbean Under-19 players the High Performance syllabus that will educate the youngsters. The 20-man squad that is currently selected and includes four Guyanese consists of players that represented the Caribbean in the previous ICC Under-19 World Cup that took place in New Zealand. These players are opening batsman Kimani Melius, fast-bowling all-rounder Nyeem Young and left-arm Guyanese spinner Ashmead Nedd.