One man was killed and at least two others have been hospitalised after the driver of the car in which they were travelling lost control of the vehicle and it crashed into a tree on the Cullen Public Road, Essequibo Coast.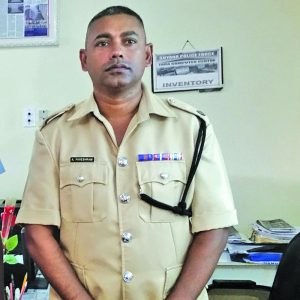 Dead is Premnarine Rampersaud of Lot 90 Second Avenue, Bartica, Region Seven. The accident is said to have occurred around 07:00h on Sunday.
"G" Division Commander, Khali Pareshram, told Guyana Times that the other individual who was in the car at the time of the incident sustained a broken leg, but is said to be in stable condition.
The driver of motor car HB 6973 has been arrested, and is expected to face several charges, including driving under the influence of alcohol.
"The driver of the motor car had his breath tested for the presence of alcohol. The results revealed that the alcohol level was above the legal limit," Commander Pareshram said.
Meanwhile, Traffic Chief, Superintendent Linden Isles, also told this publication on Sunday afternoon that speeding and driving under the influence of alcohol (DUA) combined is the leading cause of fatal accidents in Guyana, and that another life has been lost when such an incident could have been prevented.
"We also have to look at passengers that are sitting in those vehicles when people are speeding. When you check, it is not the driver that suffers much, you know. The passengers are the ones who usually lose lives, and yet folks continue to sit by idly while in the motor vehicle while the driver is speeding."
He added that passengers have a right to object to the behavior of any driver who is speeding along the roadways, or driving in a dangerous manner.
"And if the drivers create a scene or refuse to stop doing such, the passenger(s) can make a report at any station, and the driver will suffer the brunt of the law. This is because the report is being made against the conduct of that driver."
Just a few days ago, the Traffic Department released data showing that there has been a slight increase in fatal accidents recorded in the country for the first half of 2019, in comparison with the same period for last year. A combination of speeding and driving under the influence of alcohol accounted for a large percentage of these accidents.
The Traffic Chief has said that, in total, there have been 49 accidents recorded throughout Guyana since 2019 commenced, and these accidents resulted in the deaths of 52 individuals.
In "A" Division, there were 13 accidents that claimed the lives of 14 individuals; "B" Division, 14 accidents with 14 deaths; "C" Division recorded five accidents that resulted in six persons losing their lives, and "D" Division had 11 accidents with 11 deaths, the Traffic Chief detailed.
In "E" Division, there were three lives lost as a result of two accidents; while "F" Division recorded one accident that took one life, and "G" Division had three accidents which resulted in three individuals losing their lives.
"That will give you 49 accidents with 52 deaths overall, which is a slight increase. We had 51 deaths last year from 44 accidents. Over 75 percent of these fatal accidents were caused by driving under the influence of alcohol and speeding, a combination of these two (factors)," he declared.
Guyana Times understands that, in 2018, of the 51 deaths recorded as a result of fatal accidents, 41 were males while 10 were females. Of this total, two were children.
Meanwhile, statistics have revealed that of the 52 deaths for 2019 so far, 42 were males while 10 were females; moreover, four of these fatalities were children.