…corruption must be weeded out – Minister Benn
To upkeep professionalism and a high standard of operation in the Guyana Fire Service, Home Affairs Minister Robeson Benn on Thursday called for a complete weeding out of corrupt practices therein.
During the GFS annual Senior Officers' Conference, the Minister explained that corruption affects the functionality of the Service in their response to situations and in their duty to the public.
"Our Service is professional, and we need to set aside some of the negative and confusing issues which impede on our providing the requisite service… We need to improve on the esprit de corps in the Fire Service and get rid of issues of intrigued corruption and all the other issues which we know are there, like in other agencies," Benn declared.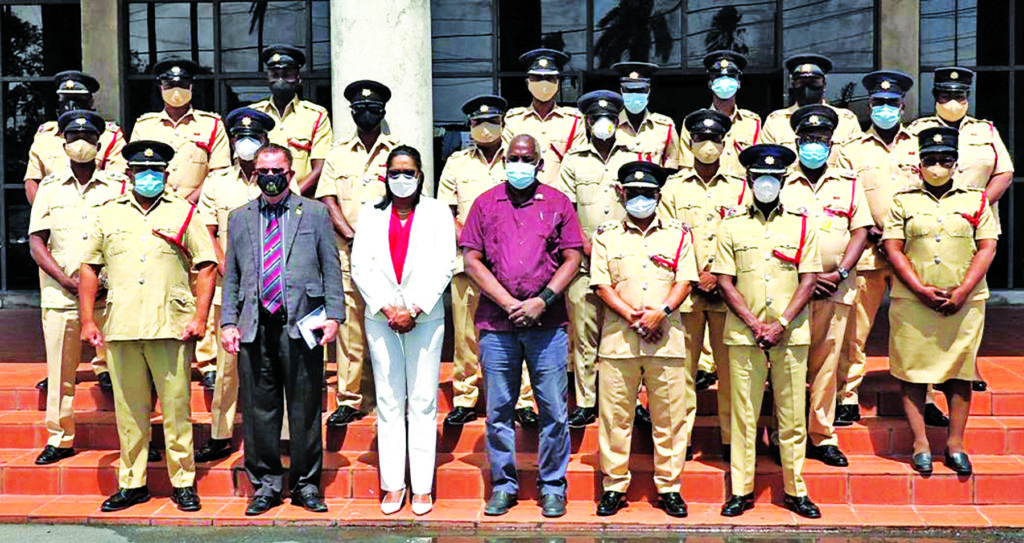 According to the Minister, there are cases in which the confidence to execute important tasks is lacking. Calls were made for officers within the Fire Service to accept merited criticism and work towards ensuring lapses are not repeated.
"As the Minister, and having to go out to some locations when there are issues in respect of fires…that we have an issue of confidence in operational issues… We have to improve on what we have. We have to perform better operationally with what we have, and we have to note the criticisms from the public, the critiques we get, both in the media and when there is a fire. We have to note those criticisms, improve, mitigate, and prevent the types of criticisms that are rational and reasonable in respect of our operations."
Meanwhile, the Minister flagged lack of diversification of the GFS as another area which must see improvement. He added, "We will not be able to set aside issues of seeming disdain or non-connection if we don't develop diversity in our services… The way we have to move forward to develop is to improve on the issue of diversity. Diversity brings it other experiences, approaches, better optimisation in what we do, and makes it possible for (the Service) to be more efficient in totality."
In addition, the GFS was charged with ensuring that women are welcomed into the operation without discrimination or any form of abuse.
With elevated buildings spanning several storeys now appearing in several parts of Guyana, Benn said such establishments must be equipped with sprinkler systems.
Meanwhile, homeowners have been asked to invest in smoke alarms and fire extinguishers for their own safety.
"We have to give out advisories actively in respect of those buildings having fire sprinkler systems beyond three storeys, and depending on what they have in storage. We have to increase and encourage the use of extinguishers at homes. We have to get each home (to be equipped) with electronic alarms."
Plans
Fire Chief Kalamadeen Edoo highlighted that a 10-point plan has been developed and would be embarked upon to change the landscape of the Fire Service. Among the areas of focus are human resources, better environment for firefighters, and expansion of stations across the country. Moreover, there is intention to operationalise fire stations in Mahdia, Lethem, Mabaruma and Wakenaam island, while lessening congestion at the Stabroek station.
"It is our intention to provide an enabling environment at all our various locations that will support the growth of the organisation as well as the country's developmental plan. Our staff need to operate under conditions that are (encouraging) positively, so the focus will be on creating recreational space, even private space for male and female staff members," the Fire Chief outlined.
Further, he stated that training of officers within the Service would be placed on the frontline, so as to improve their skills and competencies.
"The Guyana Fire Service plans to conduct a needs assessment, and to identify training opportunities so that staff can be trained and updated with current techniques, including fire suppression best practices and technology. The Guyana Fire Service workers cannot lag in terms of requisite knowledge and skills." (G12)