Two ambulances and 100 hospital beds were donated to the Public Health Ministry on Wednesday by Food for the Poor and the Inter-American Development Bank (IDB).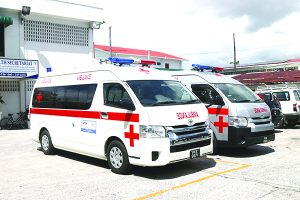 A simple handing-over ceremony was conducted at the Ministry's Brickdam, Georgetown head office. Public Health Minister Volda Lawrence said the donation is a good example of public-private partnerships.
Over the past few months, the Minister said Food for the Poor has been working in Regions Six (East Berbice-Corentyne), Five (Mahaica-Berbice), Eight (Potaro-Siparuni), Three (Essequibo Islands – West Demerara) and Two (Pomeroon-Supenaam) with the Ministry on various initiatives.
Meanwhile, the senior manager at Food for the Poor, Jimeel Davis, reiterated the agency's commitment to assisting those in need.
"This is the third container in the last 12 months (we are donating). It shows our commitment to the Ministry of (Public) Health in helping this nation to become better (and) healthier," he said.
The donation of the beds, he added, came as a result of a request from the Ministry. It was noted that the beds will be dispatched to Regions One (Barima-Waini) and Eight, along with a few other hinterland areas.
On the other hand, Minister Lawrence noted that the ambulances, PXX 9370 and PXX 9371, will serve Regions Three and Four. The ambulances cost $15.5 million each.