By Kizzy Coleman
Two mothers are mourning the losses of their sons, who were both killed in an accident along the Ogle Public Road, East Coast Demerara (ECD) on Saturday evening.
Dead are 18-year-old Rameshwar Singh, also called 'Alvin,' of Lot 6 Area 'B' Cummings Lodge, East Coast Demerara (ECD); and his 20-year-old friend Jason Harris, of Lot 7 Area 'B' Cummings Lodge, the owner of motorcycle CJ 6360.
The two met their demise at just before midnight on Saturday, as they reportedly were returning home from a nearby service station.
The Police have detailed that the driver of the motor jeep involved in the accident, a resident of Campbellville, Georgetown, reported that as he was proceeding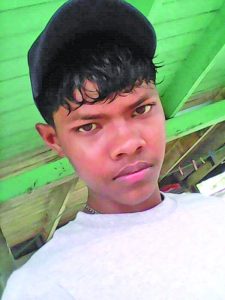 along the roadway, he was about to make a right turn onto the Ogle road when the motorcycle being driven Harris collided with his vehicle. The impact reportedly threw Harris and Singh onto the roadway, where they sustained severe injuries.
The two were rushed to the Georgetown Public Hospital (GPHC), where Singh was pronounced dead on arrival and Harris was admitted to the Intensive Care Unit (ICU), where he took his last breath on Sunday.
A breathalyzer test conducted on the driver of the motor jeep showed no sign of alcohol in his system. He was nevertheless taken into Police custody, and is assisting with the investigation.
When this publication visited, the homes of both families were brandishing black flags, and the mothers of both men are holding out that the motorcycle on which their sons were travelling was struck from behind.
According to Harris's mother — Yvonne Moses-Harris, a teacher — relatives are peeved at the Police report. She claimed that the front of her son's motorcycle had received no damage, but the back of the motorcycle had received most of the damage. This, she is holding out, is an indication that the jeep had struck the motorcycle from behind.
"Alvin was the first to get knock. He hit them from behind, and Alvin pitch off and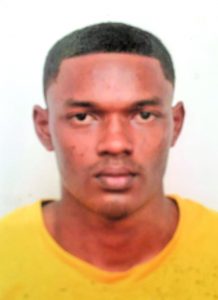 was left lying on his face. That is why he died first," the woman insisted.
She revealed that she had seen her son earlier on Saturday, but had not seen him for the entire night, as he had been out for most of the day.
"I didn't see him, because I was working; and I went to bed before he came home…but I heard that he came home and he then went back out with Alvin; they went for gas," the distraught woman explained.
She did not know that her son had been involved in an accident until two Police officers visited her home to break the news of the tragedy on Sunday at about 07:00h.
Singh's mother, who was in tears, stated that her son had left home at about 19:00h on Saturday to go out with Harris. He had returned home soon after, and had indicated to a cousin that he was accompanying Harris to get gas for the motorcycle.
"This bai over there (Harris) had to go to work in the morning and the motorcycle didn't have enough gas, so they left to go buy gas," the woman related.
She explained that she had retired to bed, but was awakened by her husband at about 03:00h on Sunday with the announcement that Alvin had not returned home.
"I get suspicious, because I called his phone and like it was turned off. I called the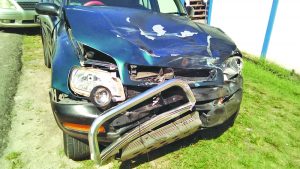 neighbour, and me ask them to call and find out if the two boys were in Canal, because she have family in Canal Polder, and she said, 'No',"(meaning: they were not in Canal) the woman cried.
The distraught woman recounted that she got out of bed and rode over to the home of her eldest son, who also lives in Cummings Lodge, in search of her second child. However, that also proved futile. This prompted her to make checks at the Police Station as well as at GPHC.
"Me husband seh that, 'This boy don't sleep out, something wrong'; so me call the hospital emergency and I asked them if they had any accident between 11 to this morning, and they say yeah…me ask them more information but they didn't really tell me anything…they didn't tell me what they were wearing, they didn't even tell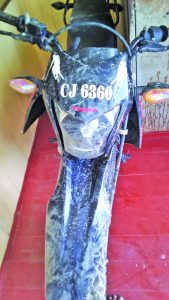 me that it was involving two boys, but apparently me child did done die," she cried.
At around 07:00h, she received a call at the gate, and it was then that the devastating news was broken to her.
"The two men pull up in a car and they stop and ask if Alvin living here. I run out and I say, 'Yes'. They ask me why me crying, I say, 'Officer, me son ain't come home since 11 last night, and me look all over the place for he.' And then is when they say that he passed away," she detailed.
Singh and Harris are both second of two children for their parents. The men, an electrician and mechanic respectively, had known each other for the past four years.
Their families are calling for a full investigation into the circumstances surrounding the accident, since they are of the belief that the driver of the jeep is not telling the truth.