Twenty new dental assistants have graduated from the Division of Health Science Education's one-year Dental Assistant Programme.
Speaking at the simple graduation ceremony, Programme Coordinator Debra Patterson-Skeete pointed out that the training allows for graduates to have practical experience in dentistry.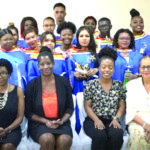 She said that the assistants have been introduced to dental X-rays and so "they are well capable of doing correct infection control methods".
The graduates hail from Region One (Barima-Waini), Region Three (Essequibo Islands-West Demerara), Region Four (Demerara-Mahaica), Region Five (Mahaica-Berbice), Region Seven (Cuyuni-Mazaruni), Region Eight (Potaro-Siparuni), Region Nine (Upper Takutu-Upper Essequibo) and Region 10 (Upper Demerara-Berbice).
The best graduating student from the programme was Nafeeza Benn of Berbice. In addressing her peers, she spoke of the many challenges and sacrifices she had to make to successfully complete the programme.
"I had to leave my family and my comfortable home and sometimes late at nights I had to study…sometimes I wanted to go out and then you had exams so I had to study for my exam and today to be the top student is a dream come true," Benn said.
Copping the most improved student was Dwayne Barry. Barry said he always wanted a career in the dentistry field and with the help of his family he was able to pursue.
Some of the areas covered in the course included training in sterilisation, patient care, ethics & communication, anatomy, oral health promotion and care of equipment among other areas.