KFC Goodwill Tournament
The Shiva Boys Hindu College are well on their way to another KFC Goodwill final as they secured another resounding win during their final preliminary game.
Similarly, Desrey Caesar-Fox Secondary (Waramadong) have proved to be an equally domineering opponent.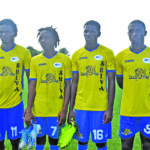 The final two preliminary games went down at the Guyana Football Federation (GFF) Training Facility at Providence, where the two aforementioned schools whipped their opponents 6-2 and 4-0 respectively.
In the first encounter, old rivals Annandale Secondary and Shiva Boys battled and similarly to what happened during their first meeting back in 2018, Annandale let the game get away from them in the second half.
Jemar Harrigon netted the first goal of the game in the 13th minute to give Annandale the lead, but their relief was short-lived as Adica Ash got going. The Shiva Boys Captain, Ash, found the back of the net in the 24th minute and his teammate, Nigel Carraby made it two in the 26th. The half finished 2-1.
When they returned to the middle, Shiva Boys went on full carnage, hunting the goal more fiercely than before. Ash (49th, 83rd) added two more to his tally to record his second hat-trick in two games. Flex Lewis (55th) and Jamal Lewis (60th) contributed one apiece for Shiva Boys' 6.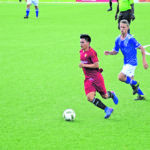 On the other hand, Omari Glasgow took a beautiful pass from Harrigon to slot in Annandale's second goal in the 73rd minute.
Based on the result of the encounter, Annandale Secondary have now exited the competition as it gets down to the more intense semi-final stage.
The last preliminary match saw DC Fox Secondary (Waramadong) holding Marian Academy off completely in what looked a one-sided affair. The collective team performance constituted a 15th minute goal from Carlito Joseph, but although the boys from Region Seven came close on many occasions, their supporters had to wait until the second segment to witness another goal.
Yasir Abraham rocked the nets in the 51st and Melee George did the same in the 57th. Marian Academy, who have visibly improved from years gone by, fought bravely, but could not get past the defence much less the Waramadong goalkeeper.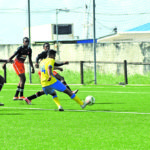 Ovid Andrews put the icing on the cake with a final goal in the 85th minute to ensure that his team would have no trouble cruising into the semi-final round.
In the semi-finals that are expected to be contested at the Ministry of Education Ground, Carifesta Avenue on Friday, December 20; defending champions Shiva Boys Hindu College will take on Guyoil-Tradewind Tankers champions Lodge Secondary at 17:00h while Waramadong go head to head with Annai Secondary at 19:00h.
The tournament's sponsors include Guyana Coema Construction Services Ltd, Mike's Pharmacy, Trophy Stall and Tiger Rentals. (Jemima Holmes)