…LGC players sharpening skills, says club captain Videsh Persaud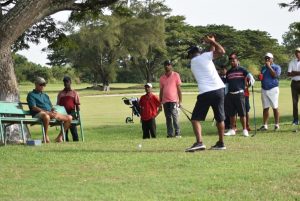 By Timothy Jaikarran
The Suriname Open golf tournament is set for October 8-9, 2022 in Paramaribo, and members of the Guyana contingent at this international tournament are currently putting in the hard work sharpening their skills to compete. This is according to Videsh Persaud, captain of the Lusignan Golf Club (LGC).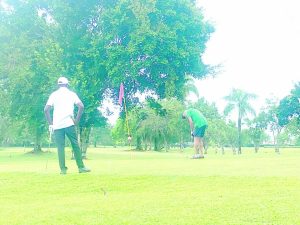 In an interview with this publication, Persaud had the following to say: "I think golf has been doing great at the course. The course is shaping up nicely, the games are playing really well, and the weather is holding out nicely for us and so on. So, it's really great conditions, and it is coming up nicely. As for the players, I think they are coming up nicely sharpening their skills. Everyone is coming out, taking in the necessary practice, and participating in tournaments, especially leading up to the Suriname Open.
"We are getting more influx of participants, so everybody is eager to participate in the Suriname Open, who is going over."
Persaud also noted that as the captain of the club, his mindset heading into the Suriname Open is to keep a calm mind, as it would be important to encourage the other players to put their best feet forward and do their best in representing Guyana and making everyone proud.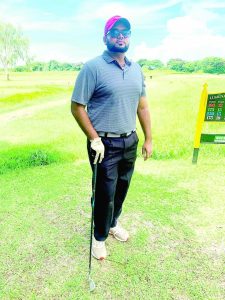 Further, he explained that while this tournament would have a lot of players and many talents would be on display, he is optimistic that the many strong players in the Guyana contingent would emerge victorious at the end of the two-day extravaganza.
Pertaining to the course in Suriname, Persaud commented, "The Suriname course is a smaller course that ours (Lusignan Golf Club), but for players to make their adjustments and tweaks, I think their focus should be on their short game. Because at Suriname course I think that is where you really have to put in the work, cause you need to be good in the short game, where you can get low scores."
Persaud revealed that the LGC has often participated in the Suriname Open, which had ceased being played because of the COVID-19 pandemic. But now, with most restrictions having been lifted, he is feeling great to be representing his country.
He also touted that all the players are excited to try their hand at the course and regain their feel of the game, as they are all really excited and looking forward to participating in the Suriname Open.