– as gunmen invade Venezuelan camp
Fifty-five-year-old Vernon Eudoxie and 23-year-old Cologne Solomon, both of Fitzburg, Port Kaituma, and 19-year-old Samuel Moses of Four Miles Oronoque, Port Kaituma, North West District (Region One) were shot dead when a group of armed men stormed the mining camp where they were working in neighbouring Venezuela.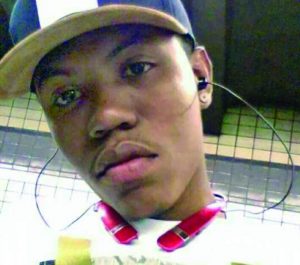 Their bodies, currently at the Port Kaituma Hospital Mortuary awaiting post-mortem examinations, bear multiple wounds suspected to have been inflicted by gunshot.
Twenty-two-year-old Joel Paton of Supenaam Creek Head Mission, Essequibo River was flown to the city on Thursday morning and is in a serious but stable condition at the Georgetown Public Hospital (GPHC), nursing several wounds about his body, suspected to have been gunshot-inflicted.
According to police reports, the injured Paton and the three deceased men were part of a team employed by a Brazilian miner who operates a land dredge at Imataca Mining Backdam in Venezuela. At sometime around 03:00h on Wednesday, the camp, located approximately three miles from the Guyana border, was allegedly attacked by four armed men with foreign accents, who began shooting indiscriminately, resulting in the death of the three Guyanese miners. The injured Paton and several other co-workers fled into the bushes for cover.
Speaking with reporters, Claire Richards, sister of the late Vernon Eudoxie, related what she knew of the incident. She said rumours were heard of three Guyanese nationals being killed by Venezuelan robbers, but she did not know her brother was among those shot dead until late Wednesday, when her nephew confirmed the devastating news.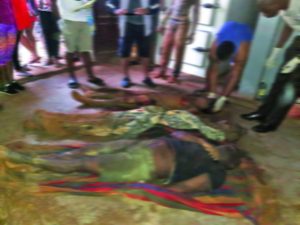 "We weren't sure until it was confirmed (at) about (23:00h) that yes, my brother was included. They brought out the bodies by ATVs (all-terrain vehicles) to Port Kaituma this morning," the woman said.
She noted that because of the condition of the trails, it took some 24 hours to transport the bodies to the Region One town of Port Kaituma.
According to the woman, this is not the first time that mining camps, particularly those within Guyana's borders, have been attacked by foreign nationals.
"It's not the first they've been robbed; they were robbed three times before. The malandros just come over, take what they want and do what they want, then go back over to Venezuela. But this time they decided to take lives, too," Ms Richards said.
The woman pointed out that there is no proper security apparatus in place to protect miners in deep interior locations, forcing miners and operators to fend for themselves. She called on the authorities to beef-up security along the country's border.
"These robbers have been coming over to Guyana for the past six to seven days, robbing each camp that they come into contact with. It wouldn't have taken the army an hour to fly in a troop of soldiers to patrol the border lines and keep people safe. I mean, it's Guyana's land, and the Venezuelans just can't come and take what they want, do what they want, and go back thinking that it's okay. Had the army been there since after the first attack, I think this situation won't have occurred," Ms Richards lamented.
The late Vernon Eudoxie leaves to mourn his wife, four children and other family members and friends. Meanwhile, efforts to contact the relatives of the two other deceased men proved futile.
Of recent, there have been several cases wherein local mining camps were attacked and robbed, reportedly by persons crossing over from both Venezuela and Brazil.
In fact, only Monday last, a group of six heavily armed men terrorised and robbed a mining camp at Kartuni, Cuyuni River in Region Seven of an undisclosed quantity of raw gold, along with a shotgun and a 9mm pistol. Those bandits were reportedly speaking fluent Portuguese and Spanish, which suggested that they are not Guyanese.
Another camp, owned by a popular Bartica businessman, was reportedly also raided and robbed on Tuesday morning, the bandits again making off with a quantity of raw gold.
In light of these recent incidents, mining operators are calling on the relevant authorities to comb the area with the aim of apprehending the bandits, whom they fear might get hysterical and kill whoever put up a resistance to them.
While there, have over the years, been much talk of strengthening security along Guyana's porous borders, the Guyana Police Force has always complained of not getting the required resources to adequately patrol the dense interior locations.
Only recently, three all-terrain vehicles were donated to the Force to reinforce its presence at strategic interior locations.