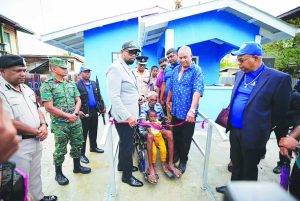 As part of his two-day outreach in Berbice, Region Six (East Berbice-Corentyne), President Dr Irfaan Ali on Friday morning handed over newly constructed homes to three Corentyne families.
The houses were built under the Men on Mission (MoM) initiative.
The first house was handed over to a family of seven at Little Africa, Corriverton, Corentyne.
James Haynes, 56, has been suffering from a spine injury for the past 15 years. He and his wife, 56-year-old Khemwattie Haynes, and their daughter, Geeta Haynes, along with her four children – aged three, five, eight and 10 – lived in the previous structure which was "falling down".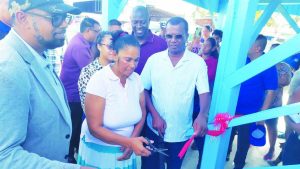 During a recent outreach in the area, Public Works Minister Juan Edghill saw the situation and intervention was made. The flat concrete house, equipped with a wheelchair ramp, was constructed by Chris Jagdeo and company to the tune of some $5 million and was furnished by other donors.
"In Region Six, the private sector is leading other regions in creating these opportunities… Last night [Thursday], I met a group of young entrepreneurs, young builders in the region, and they have committed to working with us to doing 10 such homes, especially for persons who are differently-abled," the Head of State noted.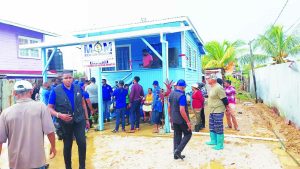 "The Men on Mission initiative is not one that is driven only by the Government, it is an initiative in which civil society, the private sector, the Government and all the agencies are collaborating to bring ease on many issues not only housing."
These, he said include creating green open spaces, counselling, providing health services and working with religious bodies. He said what he is very pleased about in Region Six is the way in which the private sector has responded to the initiative.
Additionally, Natural Resources Minister Vickram Bharrat has donated a laptop computer to the family as well.
"We build a stronger community and stronger country when we share and we become better corporate citizens; better family citizens and better citizens to contribute to the holistic development of our country," the Head of State said.
Additionally, Region Six Chairman David Armogan noted the MoM initiative is also working on creating a green open space in the Little Africa village.
Meanwhile, the second house, an elevated flat wooden structure, was constructed for a family at Number 64 Village, Corentyne.
The previous building, occupied by an elderly couple, came crashing down in August 2022 while 62-year-old Madray Budram and his wife Parbatie Budhu were asleep. The pillars of the old wooden home gave out.
Back then, Budhu had said that she works as a domestic worker and earns $1000 a day for four days a week. She said she has been taking care of her sick husband who cannot walk nor speak since he became ill.
Several small contractors took on this project in collaboration with the Natural Resources Ministry.
"They used local labour; these small contractors – not the big companies or the big corporations. This is just sending the message that all of us can combine our efforts. Only on my way here I got texts from a number of sawmills that they are willing to donate lumber and wood, especially for homes to support differently-abled people. So, if we combine that with local labour and some of the small people around, then we can do much more like these and help families like these who are critically in need."
"These guys are operating in the region and they joined this [MoM] initiative… So, it's not only for the big corporations, the big entities and the Government alone but all of us. This is just sending the message that all of us can combine our efforts," the Guyanese leader stated.
The third house was handed over to Williamsburg, Corentyne residents, 62-year-old Druwattie Ramcharran and her son. The house they were living in was dilapidated and collapsed on January 9. The pensioner had to be rescued by a neighbour.
Ramcharran's house was in a dilapidated state and had fallen. The house was rebuilt by a local company.
Ramcharran told this publication that the Chief Executive Officer (CEO) of Associated Contracting Services, Peter Lewis visited her and committed to building her a new home.
President Ali said it was another indication of the level of responsibility and commitment being shown by the private sector in the region.
"I want to congratulate the guys on this tremendous investment, I am sure the family will benefit from it and the community will benefit. We on the Men on Mission will continue to advance and work together to bring as much development that we can bring."
President Ali noted that with the high number of elderly persons in difficult circumstances, building a structure to accommodate elderly persons, is something that will be discussed.
"And have a support mechanism; that might be easier for us at some point but that is something the Men on Mission programme will evaluate," President Ali said. (G4)