Mental Health services delivery
…seeking the re-introduction of the peer system
By Lakhram Bhagirat
As a part of taking mental health services to the community level, the Public Health Ministry's Mental Health Unit conducted a two-day training workshop with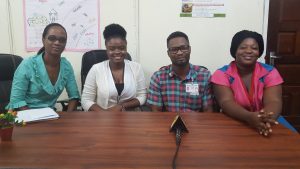 32 youths, age 10 – 14, from the Region One community of Baramita.
The training workshop, a Pan-American Health Organization – World Health Organisation (PAHO/WHO) initiative, concluded on June 21 and saw the youths being trained as peer educators to help tackle the social ills affecting the community.
Psychologist, Jermain Pollard along with social workers Alicia Solomon, Janeil Osborne and Macie Barclay were the facilitators of the workshop.
Solomon explained Baramita was chosen because of it's at risk status. "For a small community they were known for suicide and other contributing factors. We know that alcoholism is one of the major problems and knowing that they are predominantly Amerindians and they are from the Carib tribe-what we know are war like people, so when they use these alcohol they become very violent and they can even kill so that was one of the reasons Baramita was chosen," she explained.
She further stated that the mining community has only one Primary School with a Secondary Division but noted that it is not mandatory that the children attend and as such, they often choose not to.
However, this publication understands that the Head Teacher of the school has contacted the Education Ministry for them to look at the construction of a secondary school in the community.
The information that was shared, during the workshop, not only surrounded mental health but also how to resolve conflicts and how to build and keep relationships since most of the youths in the area found it hard to be social with each other.
Solomon also stated that the team is expected to visit the community at least two times before the end of 2017 and hopes to see progress made. She added that they would also train the children on the wide range of issues while assessing their knowledge retention skills.
Peer System
Young people are more inclined to share their experiences with their peers and quite often they unload their sufferings as well. In turn, they are offered advice and in most cases the knowledge imparted, by their peers, may be incorrect.
Worldwide 10-20 percent of children and adolescents experience mental disorders with half of all mental illnesses beginning by the age of 14. If untreated, these conditions severely influence children's development, their educational attainments and their potential to live fulfilling and productive lives.
Children with mental disorders face major challenges with stigma, isolation and discrimination, as well as lack of access to health care and education facilities, in violation of their fundamental human rights.
There have been several cases of children cutting their wrists and posting pictures of it on social media and even in those instances, they are not being afforded the help they needs.
Therefore, to tackle this the Mental Health Unit, as a part of the National Mental Health Action Plan 2015-2020, is re-introducing the peer system where they will train children from all regions to offer support to their peers and to report instances of mental trauma to the unit so that they can provide care and prevent possible life threatening situations.
Seal of confidentiality
While some children are open and would confide in their peers there are some who tend to isolate themselves and quite often have trust issues, according to Solomon. However, the Unit is big on confidentiality when training the peer educators.
"We would have asked for persons that we know that if somebody shares something with them then they can say that look yes this information is to stay with me but if you are going to hurt somebody or it's going to be harmful to you I need to share it. I cannot keep it to myself so that is why we want to integrate the teachers, also parents, also community leaders, and authorities in the community," she explained.
Janeil Osborne, who has been a peer educator for over five years, said that the seal of confidentiality is important. She also stressed the need to inform and be helpful to those in distress.
Tackling the issues
Psychologist, Jermain Pollard, said that upon his visit to Baramita and an investigation along with interactions with the youths he observed that the community needs the training. He noted that because mining is the dominant economic activity in the area, children are quite often left unsupervised and as such, they engage in all sorts of behaviors.
Pollard said that the situation there requires urgent attention and he sees the training workshop as one that would make a difference. He explained that the children are now informed and educated on the opportunities that presents itself beyond the community and hopes they use the knowledge to make informed choices as well as influence the lives of their peers.
The Unit would be making its way into schools at the beginning of the new term in September to offer services to the students as well as train teachers to be able to identify children suffering from psychological trauma.