"Keep Your Five Alive" Indoor KO Competition…
Linden's Swag Entertainment provided fans with a glimpse of what is in store for opposing teams when they inflicted a crushing 6-1 drubbing on Georgetown's Kingston as play in the "Keep Your Five Alive" Indoor Knockout Competition opened on Thursday night at the National Gymnasium.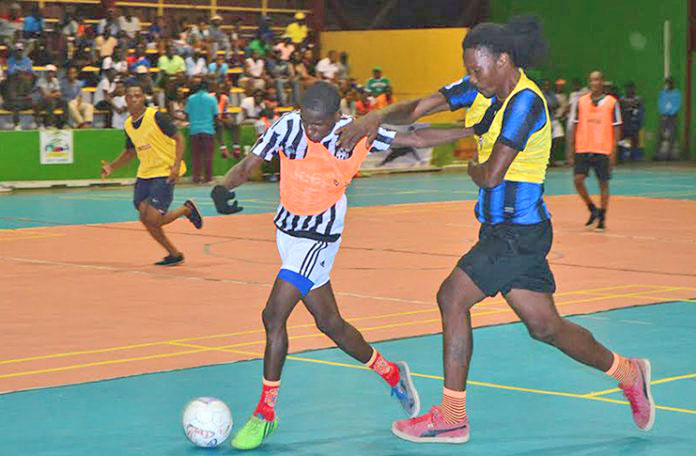 Appearing in the third game of the night, Swag were led to victory through a brace each from Colwin Drakes, who netted in the 9th and 11th minutes; and Jermaine Grandison, who netted in the 6th and 13th minutes.
Clarence Huggins in the 7th, and Shane Luckie's 20th minute strike completed their tally.
Kingston's lone response came off the boots of D. Christian in the 8th minute.
Mocha's Rhythm Stars were also in ripping form, dispatching Berbice Guinness champion Trafalgar 4-2, with Orville's and Dorville's solitary strikes supporting a pair from Steffon Stewart.
Led by a double from Seon Grant, Agricola eliminated Broad Street, while Ryan O'Selmo and Tsekedi Sealey's single efforts were enough to secure Sophia's win over newcomers Avocado Ballers.
In the final game of the evening, Leopold Street, one of the tournament's favourites, beat Melanie 3-0, with their captain, Okenie Fraser, firing in a treble in the 4th, 12th and 20th minutes respectively.
Buxton Diamond engage West Demerara Showstoppers, while the young Uprising team from the East Coast go up against Linden's Silver Bullets.
Ol Skool Ballers then collide with East Coast BV, before Ann's Grove and North East La Penitence take to the court.
The rejuvenated Tiger Bay unit then faces California Square, before Sparta Boss and Tucville bring the curtains down on the evening's proceedings.
Meanwhile, the organisers are reminding teams that only those winning will advance further in the competition.
Over $800,000 in prize monies and trophies will be up for grabs.
Complete Results
Rhythm Stars – 4 vs Trafalgar – 2
Rhythm Stars Scorers
Steffon Ramsay in the 13th and 16th
Orville Stewart in the 1st
Dorville Stewart in the 18th
Trafalgar Scorer
Odari Miller in the 17th and 20th
Broad Street – 1 vs Agricola – 2
Agricola Scorer
Seon Grant in the 2nd and 13th
Broad Street scorer
Akeem Sam in the 16th
Kingston – 1 vs Swag Entertainment – 6
Swag Scorers
Colwin Drakes in the 9th and 11th
Jermaine Grandison in the 6th and 13th
Clarence Huggins in the 7th
Shane Luckie in the 20th
Kingston Scorer
D Christian in the 8th
Avacado Ballers – 0 vs Sophia-2
Ryan Oselmo in the 2nd
Tsekedi Sealey in the 10th
Leopold Street – 3 vs Melanie – 0
Okenie Fraserin the 4th, 12th and 20th