Petition on severance pay
By Shemuel Fanfair
The end of October will mark 10 months since the closure of the Wales Sugar Factory, and many workers who were attached to the Estate and rejected the option to transfer to Uitvlugt are still to be paid their severance packages.
As the former sugar workers continue to cope with their noted strain and difficulty in obtaining good paying and consistent employment, Minister of Agriculture, Noel Holder, has not carried out President David Granger's request to look into the concerns of those aggrieved.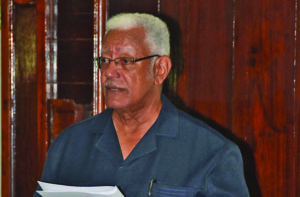 Sugar worker Vishnu Jailall, on behalf of his fellow unpaid employees, had sent a signed petition to President David Granger in late July, urging him to ensure that the Guyana Sugar Corporation (GuySuCo) meet its legal obligations to pay out severance benefits. In an attached letter, Jailall had contended that the payments should be paid as the corporation had made the workers' jobs redundant.
President Granger acknowledged their concerns in a response in early August, wherein he observed that the Agriculture Minister would have tendered a response to the former employees. The petition was signed by over 30 other cane cutters and transporters.
However, the signatories to the petition remain without definitive word on their future, as Minister Holder has not, of recent, engaged in dialogue with the workers. In a brief interview with Guyana Times, Vishnu Jailall related that he had not received a response from the Minister, though he remains hopeful that their issues can get addressed.
It is unclear when the workers would be able to obtain or garner resolve to this issue, as the matter is yet to be called in the High Court. In May, Guyana Times reported that attorney for the Guyana Agricultural and General Workers Union (GAWU), Senior Counsel Ashton Chase, had compiled and filed documents for the matter regarding the non-payment of severance packages to hundreds of sugar workers, and the matter was to be called up in the High Court. As of last week, the case was not listed to be called before a judge.
Several workers had their service transferred to Uitvlugt Sugar Estate, but the remaining workers were promised severance payments, some since December 2016 and others by February 2017. After this period elapsed, GuySuCo contended that all of the workers who requested severance were paid. As such, the workers who did not agree to accept their severance within the stipulated timeframe have not been paid, and have supposedly been "left in the wilderness", as described by GAWU General Secretary Seepaul Narine.
At a community-level meeting between Wales residents and several Government ministers earlier this year, Public Security Minister Khemraj Ramjattan told the workers that Government has no money to pay the severance to which the workers are entitled. In September, Prime Minister Moses Nagamootoo chaired high level-meetings with GuySuCo after the corporation had reportedly run out of money to pay certain categories of workers their salaries.
While it has not been disclosed how senior management workers have been affected by the payment deficit, many workers have reportedly been unpaid for services for almost two weeks. They were finally paid on September 20.
The Wales Estate closure has been seen as a cost-saving measure due to billions of dollars that were allocated to the declining sugar industry, especially to that former entity. There has since been the announced scaling down of other estates across the country, but many stakeholders have called for social impact studies to be carried out to assess how communities across the sugar belt would be affected by sure closures.