The Lusignan Golf Club (LGC) hosted the Banks/Smirnoff Vodka Golf Tournament on Saturday, utilising the medal play format over 18 holes. It featured prizes for best net score from first to fourth, along with best gross, longest drive and nearest to the flag. In the end after fierce competition, it was Rohan Albert who edged out his much senior counterparts to bag the title.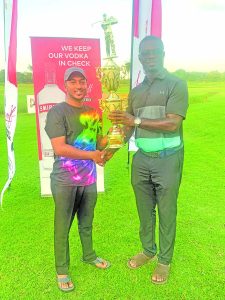 The favourable weather and pristine condition of the course made for an intense contest and saw a total of 40 golfers take the field. The victorious Albert was able to produce a net score of 68. Following a rocky start, he composed himself and finished strong on the back nine to secure his victory. The intensity of the competition did not stop there, as Miguel Yunis, Videsh Persaud, George Bulkan, and Kasim Khan recorded the second-best score of net 69, forcing a countback to determine the official positions.
The results are as follow:
* First place – Rohan Albert: Gross 90, Net 68
* Second place – Miguel Yunis: Gross 94, Net 69
* Third place – Videsh Persaud: Gross 84, Net 69
* Fourth place – George Bulkan: Gross 83, Net 69
The prize for best gross of the tournament was awarded to Avinash Persaud, who recorded a gross score of 73. The nearest to the flag prize was won by Carlos Adams while the Longest Drive accolade was captured by Guillermo Escarraga.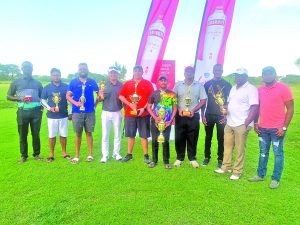 In a statement at the end of the tournament when asked how it felt winning the title, Albert said, "The competition was very challenging; we had a lot of good competitors out here that were eager to win and the competition was tight. The rain didn't affect us much, the ground was softer and the weather was great. Honestly speaking, I was just playing my game and focused on making good scores on each hole. I had one terrible hole, but that didn't stop me from doing my best."
Albert also made mention that entering the tournament, his mindset was just to play his natural game and bring in a good score. He noted that it was quite a shock for him as he honestly did not believe his score was good to win until everyone else came in with their scores. Nevertheless, Albert said that it felt good to get first after a long time.