Petra/Corona Football tournament…
The highly anticipated opening of the Petra Organised Corona Football Tournament takes place today at the Georgetown Football Club, Bourda.
The inaugural tournament which was slated to kick-off last Friday will begin with an exciting triple header.
When the opening whistle goes at 17:00h, it will be Riddim Squad and Flamingo matching skills followed by Northern Rangers against Eastveldt at 19:00h. The old rivalry between Pele and Santos will be renewed from 21:00h.
Tournament organiser, Troy Mendonca posited that the aim of the tournament is to put football back on the field and also bring out the various communities to witness exciting action.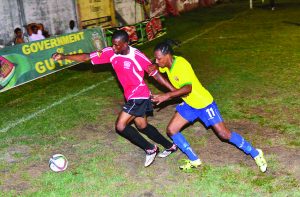 The former footballer also stated that the tournament will offer many youths something positive to do given that many are training but not engaged in competitive field-goal football.
The organiser further explained that on the first day of the tournament admission will be free for all patrons and will continue to be same for women only throughout the duration of the tournament.
The tournament will be played on a round-robin knock-out phase where there will be two groups of six teams. The top four from the respective group will advance to the knock-out phase.
The teams are playing for first place prize of one million dollars and championship trophy while second to fourth will pocket $400,000, $200,000 and $100,000 respectively and the corresponding accolade.
The other teams participating are: Guyana Police Force FC, Campton FC, Georgetown Football Club, Beacons FC Western Tigers, Flamingo FC and Black Pearl.