Digicel Schools Football Championships
By Akeem Greene
Annai Secondary continued their impressive run by battling their way to a 2-1 win over St Ignatius Secondary and securing the Region Nine title in the Digicel Schools Football Championships on Sunday.
The game was played at the St. Ignatius Community Centre Ground,  where the host dominated the contest  for the first 70 minutes; but the final 20 minutes   showcased a dramatic twist, with the  final score-line reading  2-1 in front an enormous and vocal audience.
Demion Mack and the prolific Naidison Daniels orchestrated the memorable comeback after Jared George had given St. Ignatius Secondary the lead, stunning Annai in the 11th minute with a breezy run at the defence, then unleashing a piercing right-foot shot from just outside the penalty area.
Sherral Daniels had a chance to level the score when he took a free-kick on the outskirts of the 18-yard box, but he sent the ball inches over the crossbar.
The tempo of the match remained fiery, with both teams having an equal share of ball possession; and the second stanza exhibited some thrilling play from both teams, but nothing materialised into any successful conversion.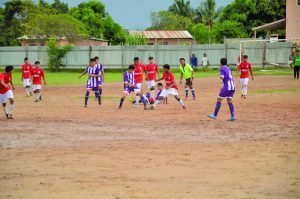 Led by National player Ken Salvador, St. Ignatius kept a steely backline, thwarting any set-pieces crafted; until Mack forced his way in the box to score the critical equaliser in the 78th minute, much to the delight of the audience.
Three minutes later, the dynamic Naidison brought spectators to their feet when he outfoxed two defenders before planting a right-foot shot into the left side of the goal.
St. Ignatius had a late chance to equalize with a shot to the top left corner, but a diving effort by the Annai keeper ensured his team retain the advantage and savour the success that goes with it.
The Annai team won themselves $100,000, which goes towards a school project, and will now play the Region Five finalist, Bush Lot, on July 23 at the Guyana Defence Force ground.
The champion school will collect $1,000,000, to go towards a project of their choice, along with the championship trophy.
Second, third and fourth placed finishers will receive $700,000, $400,000 and $350,000 respectively; and these sums of money are for a project of the school's choice. The final is slated for July 30 at Leonora.