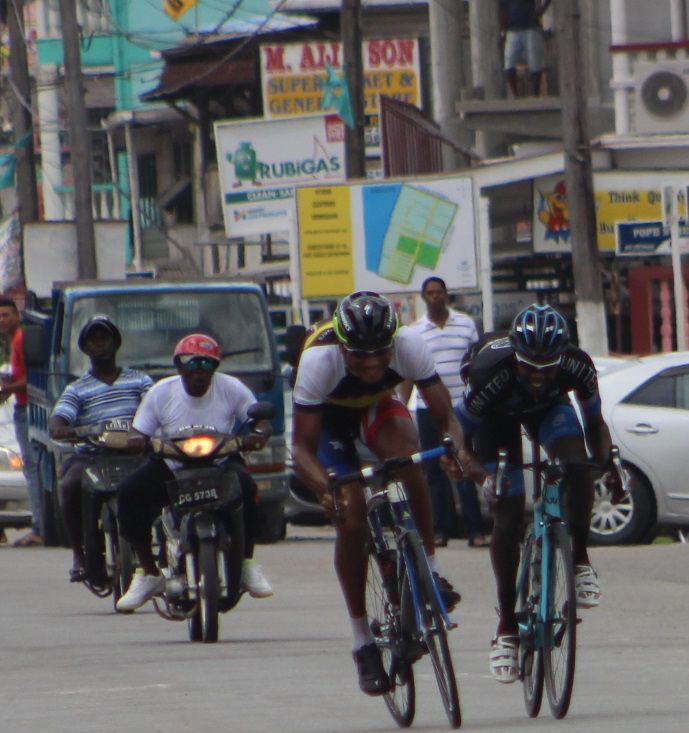 By Brandon Corlette
Linden's Michael Anthony emerged victorious in the Phillip Arokium Memorial 50-Mile Cycling event held in Berbice on Sunday last by outsprinting Andrew Hicks in a tense finish.
The cycle race was staged in honour of late proprietor of the Arokium Funeral Establishment, Phillip Arokium, and was organised by the Randolph Roberts-led Flying Ace Cycling Club (FACC).
The race commenced at 10:00h local time at Alexander Street in New Amsterdam, and proceeded to the turning point, Nand Persaud Rice Mill at Number 36 Village, Corentyne, before finishing at its starting point at Alexander Street.
Anthony, who finished the race in two hours, 12 minutes and 11 seconds, battled with Hicks throughout, and these two ace riders deservingly copped first and second positions respectively.
One of the best riders in Berbice, Andre "Padlock" Greene, came in third position, followed by Balram Narine in fourth position. Marcus Keiler rode in fifth, Christopher Griffith sixth, Ajay Gopilall seventh, and Ralph Seenarine eighth. They comprised the top finishers in this major event.
The veteran Junior Niles won in his class (seniors), while Paul Choo-Wee-Nam placed second and Taikaran Sookhai placed third. Mario Washington won the juveniles category, dethroning David Hicks and Steve Bhimsen.
Shemika Teixeira remains a dominant female rider, as she finished first in her class. Deancea Welch and Maria Carrington rode in second and third positions respectively, after riding from Alexander Street to Benjamin's Sports Bar at Number One Road, Corentyne.
In the U-14 race, Aronraj Narine was the champion rider, followed by Shazim Yakub and Malachi Devanand.
Flying Ace cyclists were given special prizes; Balram Narine, Ralph Seenarine and Clement Doris were the recipients.
The champion of the race, Michael Anthony, won a first prize of $50,000, but was given an additional $5,000 by Managing Director of Arokium Funeral Establishment for his sprinting at the conclusion. Sprint prizes were also given to Deoraj Goberdan (two), Andrew Hicks (three), Michael Anthony (three), Balram Narine (one) and Curtis Dey (one).
The organizers of the race were delighted with the outcome, and Managing Director of the establishment, Pearl Arokium, said she would continue her involvement in cycling. She declared that, in December, she would be hosting a race from New Amsterdam to Rose Hall Town, and the first place prize will be $70,000.
After the race, champion rider Michael Anthony explained that he was comfortable in the earlier part of the race even though there were minor breaks. "I just decided to make a move and follow Hicks when we got away from the chasing pack", Anthony disclosed.
The Linden Bauxite Flyers lad said he always enjoys riding in Berbice, since the road is of good quality. Peeking into the future, Anthony said his goal is to regain fitness and he would continue to get past some of the top riders in Guyana.