By Vahnu Manikchand in Trinidad and Kristen Macklingam
If the Government of Guyana believes that the proportional representation for a majority in its National Assembly should be considered as 34 of 65 instead of 33 as part of allowing a ruling party to have a "leeway" then this would not serve much of a purpose.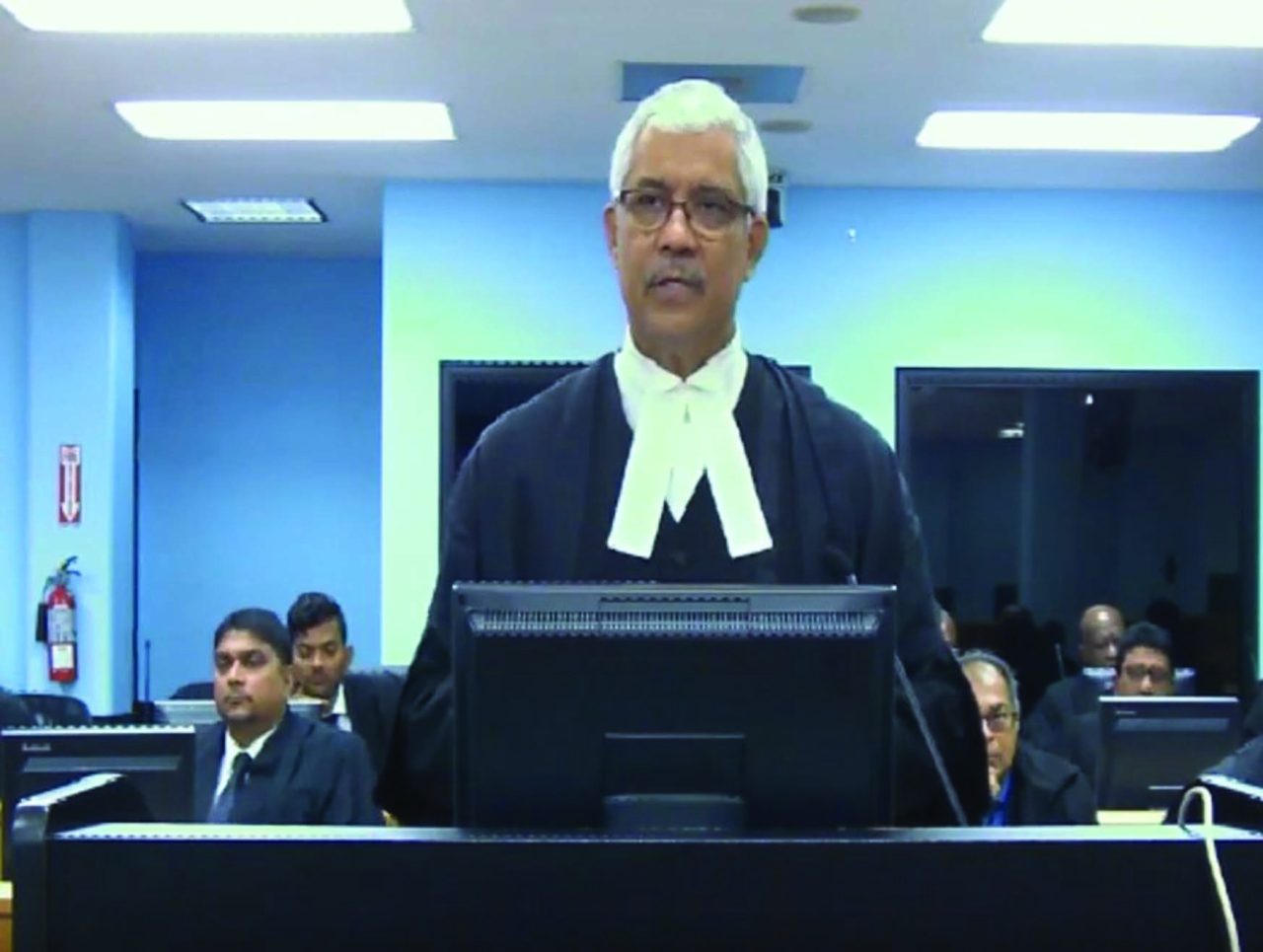 This is according to Trinidadian Senior Counsel, Douglas Mendes, who is a part of the battery of lawyers representing Opposition Leader Bharrat Jagdeo at the Caribbean Court of Justice (CCJ) in relation to the validity of the No-Confidence Motion passed in Guyana's National Assembly on December 21, 2018.
During his submissions on Friday, the Senior Counsel submitted that the "ordinary" meaning of the word majority ought to be applied and that would mean that 33 is in actuality, the majority of 65 in Guyana's National Assembly.
"If you have to pass a budget, and you have to get a majority, and, of course, if you don't pass the budget then you cannot spend any money then you would also need a little more leeway there as well. Wherever you find the word majority in the Constitution, it ought to be interpreted in such a way as to give the Government a leeway. But with all due respect, there is no warrant for that," Mendes submitted.
He added, "with all due respect I don't think that takes you anywhere because if the idea is to give the ruling party some leeway then [even] two really should not be enough because two members of the Government can defect. It won't be that much difficult than one if the idea is to give the ruling Government some leeway, well, why not half plus two or half plus three, why just stop at one? If it is that you are concerned about being defeated, then you should apply it to all measures under the Constitution".
Stretching provisions of the Constitution
In relation to the arguments put forward by the coalition Government's attorneys that Article 156 (3) of the Constitution of Guyana dictates the manner in which a Member of Parliament should operate when casting a vote, the attorney pointed out that this is not so, adding that this section specifically speaks about certain factors involved in the process.
"156 (3) says nothing about how you vote in the National Assembly, so it is a stretch in the first place to say that it limits anyone's right to vote but it is even worse to say well there are exceptions to that implied limitation. The implied limitation is you can vote against the Government if you have a coalition Government, with all due respect that is asking this Court to rewrite the Constitution. Not just simply to say that there is an implied limitation on the right to vote but that there is an implied limitation on the right to vote provided that you don't have a coalition Government in which case, the implied limitation does not apply to the coalition partners, so my learned friends are asking you to write in provisions of the Constitution, this is not the normal process of necessary implication at all," the Senior Counsel told the judges.
Mendes argued that while some may contest that former AFC Member of Parliament, Charrandas Persaud, was a "usurper" and should face penalties, the question is left to ask whether he knew he was not qualified to sit in the Parliament on December 21, 2018.
He added that it is a known phenomenon that persons who are not qualified are in Parliament.
"…did he know he was not qualified to sit in the Parliament on December 21, 2018? Mr Persaud was not a usurper on the day… Section 58 of the Constitution can only assist you if there is a finding that Mr Persaud had or knew he was not entitled to vote as he did. If he was charged under this provision, then he would be able to say to the Court that he did not know. Certainly, he would be entitled to say in such cases that you cannot challenge me anymore, as far as I knew I was entitled to vote…there is no basis for saying he had reasonable grounds to know he was not entitled to vote. As of 21st December, he would be acting reasonably to think he was…"
He added that if Guyana's Parliament has addressed the question about voting when a member is not supposed to and that individual is only fined $50 as the only sanction then this does not mean that the vote is/was invalid.
Meanwhile, former Attorney General of Guyana, Anil Nandlall, who is also one of the lawyers representing the Opposition at the hearings, on the sidelines of Friday's Court proceedings told Guyana Times senior journalist Vahnu Manikchand, who is in Trinidad, in an exclusive interview that he is confident that his side will succeed in the cases that were heard at the CCJ.
"That the No-Confidence Motion will be upheld and that Charrandas' vote will be counted and declared to be valid, the important part now is what orders will the Court make should our appeals be successful, as you know, had the No-Confidence Motion not been challenged the elections ought to have been held by March 21st. That did not happen. So the Court I think, once it rules that the No-Confidence Motion was validly passed, has an obligation to give effect to the letter and spirit of the Constitution which is for elections to be held now that the 3 months have expired, for elections to be held within the shortest period of time," he stated.
He noted that fortunately, "[During] the proceedings of these appeals, we heard the GECOM Chairman appeal, and naturally the two sets of cases are inter-related because GECOM is fundamental to the holding of elections. Of course GECOM lawyers, I believe in conspiracy with the Government have advanced arguments that they are unprepared and not ready for early elections. That was expected".
He said that these lawyers, have now "thrown up a whole host of obstacles," none of which in his view can be considered to be reasonable and none can be considered to be a lawful obstacle to the holding of early elections.
"So, fortunately, the Court has seen this battle that is going on now and the Court has indicated that they will fix a date and time specifically for the purpose of dealing with the consequential orders that will have to be made should the Court rule that the No-Confidence Motion was validly passed."
According to Nandlall, the Court has indicated two things fundamentally to be done, the first being that it will have to deliver its ruling. There is also the question of the consequential orders that ought to be made based upon the ruling.
"The ruling cannot be that the No-Confidence Motion was validly passed, let us assume that is the ruling, the Court cannot just leave it like that. The Court needs to make orders that would make effect to the spirit of the Constitution now that the letter of the Constitution can no longer be achieved having regard to the expiration of the time contemplated by the Constitution for elections to be held if the No-Confidence Motion is successfully passed."