Guyanese lawyer, Senior Counsel Llewellyn John died on Saturday at his Croal Street, Georgetown law office.
He was 95 years old. He married Evelyn Rose Arthur in 1956 and had five children – Helen, Richard, Dina, Marie and Hannah.
Born on January 25,  1925, Clifton Mortimer Llewellyn John spent most of his working life as a solicitor and attorney-at-law. His legal career spanned six decades and lasted until his death. He entered politics at a very young age and was part of the Forbes Burnham team that travelled to London to negotiate Guyana's Independence from British rule in 1961.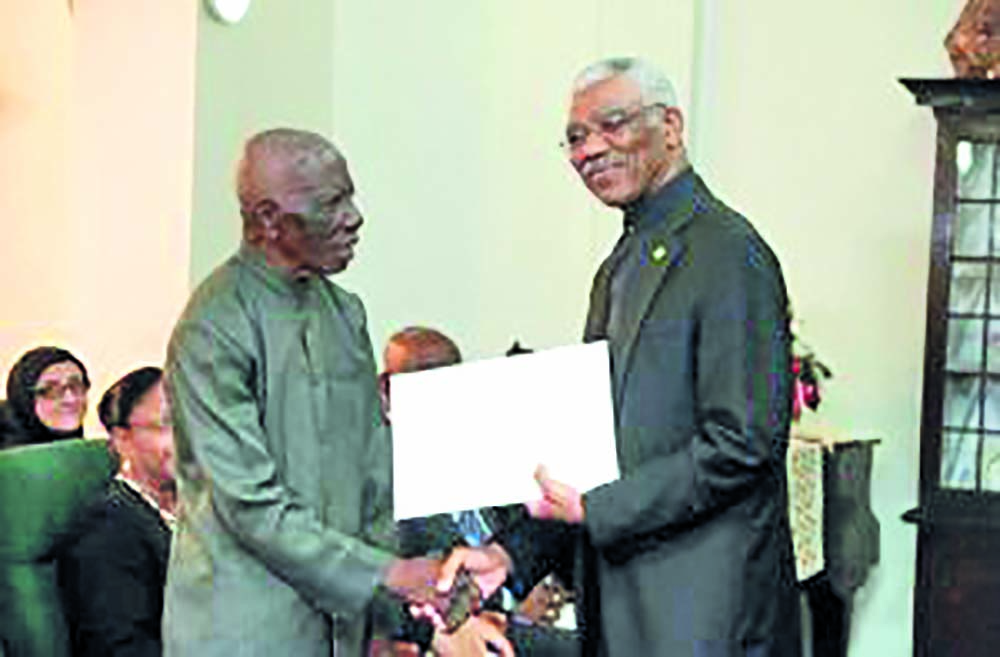 One of John's most significant representation in court in recent times was his involvement in the series of litigations filed after the March 2, 2020 General and Regional Elections, when the country was plunged into a political and electoral deadlock.
John was conferred with the national award of Cacique Crown of Honour (CCH) in 2015 and Senior Counsel (SC) status in 2017 – both by former President David Granger.
He was also a longstanding member of the People's National Congress (PNC).
The party and its leader, Granger, in a statement on Saturday evening, extended condolences to John's family, particularly his children.
He said John was elected a Member of the National Assembly and served as Minister of Local Government, Minister of Home Affairs and Minister of Agriculture in the People's National Congress-United Force coalition Administration from 1964 to 1969. During that time, he was a Member of Parliament. He later established his own party, the People's Democratic Movement.
The legal luminary was also a leading member of the League of Coloured Peoples, becoming the editor of the "Sentinel" newspaper and, later, as Assistant General Secretary of the PNC, of the "New Nation" newspaper.
Sympathies
Following news of his death, condolences poured in, with many from the legal fraternity taking to social media to express their sympathies.
The Guyana Association of Women Lawyers (GAWL) in a brief post on Facebook said, "We are saddened to inform you of the passing of our colleague and friend, Clifton Mortimer Llewellyn John, C.C.H., S.C. fondly known as Llewellyn John, S.C. who transitioned home today, 16th January, 2021. Our condolences are extended to his children and all other family and friends. May his soul rest in eternal perfect peace and rise in glory."
Meanwhile, Attorney General and Legal Affairs Minister, Anil Nandlall remembered John as a legal stalwart, who was one of Guyana's first native solicitors and later became a Barrister-at-Law.
"As a lawyer, there is no one who appeared in more election petitions or election-related cases than Mr John, from Independence to current time. He was an authority in the area of local government law and practices. He also enjoyed a large land law, conveyancing and prescriptive title practice. With the passage of time, he would have represented tens of thousands of Guyanese, moreover, the ordinary litigants."
Nandlall went on to say that John certainly made his mark in Guyana, especially in the legal profession.
"He portrayed certain unique qualities: his style of dress, his style of speaking and writing and his mannerisms were all inimitably his. He was a hardworking and tenacious lawyer who championed the causes of his clients with gusto and perseverance. No doubt the profession will miss him. I shared a very cordial and humorous relationship with him. I will miss him."
Education Minister Priya Manickchand, who is also an attorney-at-law, also shared a post on social media of an encounter she had with the veteran lawyer back in March 2020.
"We were on the corridor of the High Court where Chief Justice Roxane George had just ruled that that record of the SOPs (Statements of Poll) must be used after displaying same to the political parties as per the law… I always liked Mr John. This day we held diametrically opposed positions on the election that was extant and the madness that was unfolding but I was helping him get back to his office. May his soul RIP," Manickchand posted on Facebook.