The Mackenzie Sports Club has finally held its Annual General Meeting (AGM) and elections, after being recalcitrant for a decade.
Last Saturday, at the MSC Lounge, incumbent president Avery Trim was unanimously returned to the helm for another two years. Popular promoter Aubrey 'Shanghai' Major will serve as First Vice President and Robert Langevine as 2nd Vice President.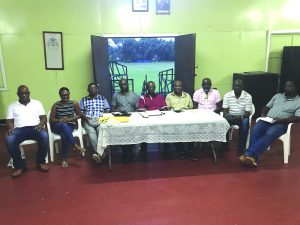 The new General Secretary is Joseph Chapman, who was previously the Assistant Secretary. Keith Semple is the club's Public Relations Officer.
The new Treasurer is Ms. Kellyann Quow, the lone female on this new executive; while Norris Simon is the new Assistant Secretary/Treasurer.
The Committee Members are: Nelson McKinnon; Audwin Rutherford, Member of Parliament for Region 10 (Upper Demerara/ Berbice); Compton London; Troy Roberts and John Trim.
Chapman, Trim and Semple were absent from the meeting, being all out of the country at this time; but they had signalled their interest to serve by way of letters sent to the meeting.
The new executive body will be holding its first executive committee meeting on Thursday afternoon at the MSC Lounge.