–
in daring daylight robbery at McDoom
A brazen and meticulously planned robbery on passengers on board a Route 32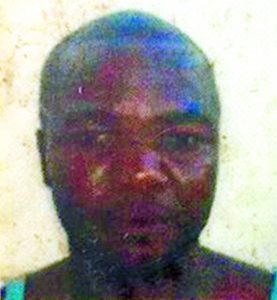 minibus has left the driver dead after he attempted to flee from several armed attackers.
Thirty-five-year-old Tedroy James, aka "Six-Head" of Suddie, Essequibo Coast, was shot in the back by one of three armed bandits around 11:30h on Tuesday. Guyana Times was told that the attackers were young males.
The attack was well planned, as eyewitness revealed that one of the passengers of the BTT 976 bus who was picked up along the West Coast Demerara road was a bandit. This publication was told that he was in constant communication with someone on his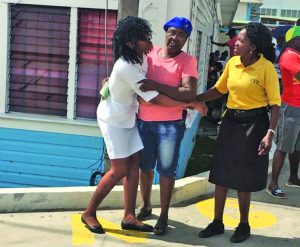 mobile phone, reportedly sending several messages to an associate. The male passenger reportedly requested that the bus be stopped at McDoom along the East Bank Demerara Public Road. However, as he was about to exit the minibus, the criminal's intentions were unearthed as the man grabbed a bag belonging to another passenger before turning on him with a gun. Police later disclosed that the bag contained $1000 in cash and one mobile phone valued $17,000.
Eyewitnesses told this publication that moments after the bag was snatched, two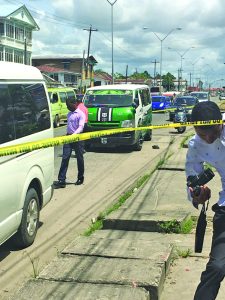 male accomplices swooped down on the vehicle, joined in the attack, and attempted to rob other passengers. The minibus driver had attempted to drive away with his passengers, but his bid to escape was short-lived as one of the three gunmen shot him once to the back. The trio then fled the scene through a street in McDoom. However, swift investigations by Police ranks led to the capture later in the afternoon of one of the suspects, who is currently in custody.
James was pronounced dead on arrival at the Georgetown Public Hospital. At the facility, the dead man's sister, Shaundell James told this newspaper that she travelled with her brother from Parika to Georgetown only that morning, not knowing that Tuesday would have been the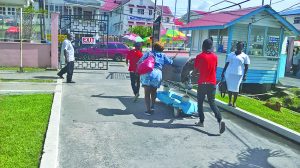 last time she would see him alive. Later on, other relatives of James gathered to garner updates on their loved ones, but their queries erupted into frantic outbursts upon learning that the bus driver had died.
Guyana Times was told that James had one other sister and a brother who had passed away not too long ago. The now deceased driver leaves to mourn his two children. Investigations are ongoing. (Shemuel Fanfair)