Residents of New Amsterdam, Berbice, on Friday last benefitted from an interactive session on Guyana's emerging oil and gas sector hosted by Head of the Department of Energy, Dr Mark Bynoe.
It was the fifth interactive session organised by the Department of Energy within the Ministry of the Presidency aimed at raising awareness among all Guyanese on the oil and gas sector as well as to sensitise them on the multiplier effects.
The session, which was held at the Berbice High School, also aimed at providing an opportunity for stakeholders to actively participate in discussions.
However, scores of persons turned up claiming that they were promised jobs if they attended the session, and as such, walked with their relevant documents for interviews.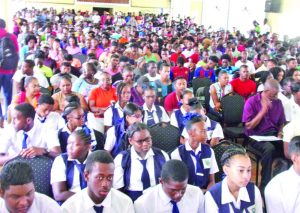 Region Six Chairman David Armogan was quick to dispel those rumours claiming that the exercise is not about job opportunities.
Meanwhile, Head of the Department of Energy, Dr Mark Bynoe encouraged the youths to plan for careers, not only in oil and gas but rather for the transformation of the economy.
Guyana is expected to begin commercial oil production by March 2020 and is expected to rake in an initial annual revenue of US$300 million.
Guyana is now home to the world's biggest new deep-water oil discovery. Principle explorer ExxonMobil has been keen to push development of the oil reserves and is expected to begin commercial production next year. So far, there have been twelve discoveries in the Stabroek Black alone.
Currently, there are several operators in the sector besides ExxonMobil. At least four will be carrying out exploratory works this year with four wells planned to be dug. According to Bynoe, CGX Energy Inc is among the four companies which are expected to drill later this year.
"While we speak about a sector, the sector only had one success and that success is ExxonMobil, so as the Chairman said, we are sitting not just on a gold mine but we have the lottery ticket and it is up to us when we wish to cash it in," Bynoe told the gathering.
So far, a total of an estimated five billion barrels of oil has been discovered in territories which belong to Guyana.
According to Bynoe, the sector will be managed through recruitment and instructional strengthening, the revision of the legal framework and partnering with other agencies.
He added that the right policies will be established to assist with managing the sector.