Far from backing down from spending money on the Guyanese people after being criticised by the political Opposition, Vice President Bharrat Jagdeo has assured that billions more will be spent by the People's Progressive Party/Civic (PPP/C) Government to directly assist Guyanese and put money in their pockets.
Jagdeo explained on Wednesday that Government would continue to consult with different interest groups and be responsive to what their needs for financial assistance were. An example of this is when the Government met with the fishermen and afterwards, announced a $150,000 cash grant per fisherman in Guyana.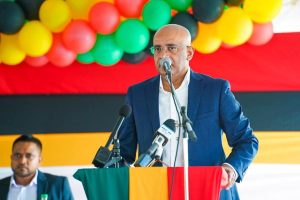 "We met with people from the hinterland. We met with the farmers. We're meeting with the older folks. The President met with people with disabilities. So, as we meet with different groups, we will extend the help through consultations," Jagdeo said during a press conference.
He further explained that the $5 billion set aside for relief measures in Budget 2022 had not been exhausted. Additionally, he said that while the Government had hoped for improvements in the supply chain in other countries, some were still in lockdown. This has had a trickle-down effect on countries like Guyana.
"No, the money has not been exhausted as yet. There are different groups that are being targeted. But the resources have not been exhausted… (the measures) are a constant thing. We recently removed the tax on lube oil. Whilst we removed the tax on gas and diesel, the 50 per cent excise tax. We then started looking at what else people use in vehicles for transport. We found lube oil, we removed that. As we find items, we're going to try to adjust prices downwards."
Tough period
According to Jagdeo, another issue the Government is grappling with is sourcing capital equipment used in the productive sectors, such as bulldozers and excavators. He said that while some of these are being ordered, they've received timeframes that stretch into next year.
"So, it is a tough period. There is very little that you can do. Look at the US, with their might and they have a rough time tackling supply response. So, we're going to continue working through this to see how we can help vulnerable groups as we go along.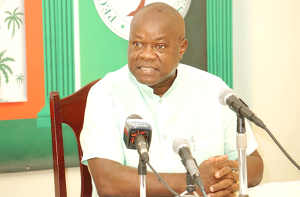 "And one way of doing this, outside of the $5 billion set aside, we're going to probably spend another $5 or $6 billion for employing people. So that's another $6 billion that will go into people's pockets. Now that's 10,000 to 15,000 persons ultimately, by next year, we're looking at to target."
As Jagdeo put it, the Government is trying to supplement income at a household level so that these persons can address their cost-of-living issues. According to Jagdeo, the Government's hands are tied when it comes to the price for commodities like cooking oil.
Jagdeo explained that Guyana was in a slightly better position than some countries, since Guyana consumed some of what it produced. He noted that some countries were almost entirely dependent on imports.
Meanwhile, Jagdeo scoffed at calls from the People's National Congress/Reform (PNCR) component of A Partnership for National Unity (APNU) and Opposition Leader Aubrey Norton for the Government to subsidise fuel importers at a press conference on Tuesday. According to Jagdeo, such calls are not carefully thought-out and exemplify a "cake shop" approach to economics.
"So, Mr Norton wants to give subsidies to bring down the price for gas. Can anyone explain how this will be done? We removed the 50 per cent tax… he wants subsidies now. But he can't explain how."
"It is this sort of almost cake-shop approach to economics that will harm us. Where people just say things and oh, the Government should have gotten more from the deal, but can't tell you how, etc. Just going after that sort of thing," Jagdeo said. (G3)