By Lakhram Bhagirat
Seeing the need for a central online location where the Guyanese populace could be updated in real-time about the ongoing battle against the coronavirus disease (COVID-19) has led Deopaul Somwaru to create https://www.caronavirusgy.com/.
"This idea started when the second case of the COVID-19 disease was made known to the public. I remember thinking that people should have access to a website that gives them a real-time update of current events of COVID-19 in Guyana. So, I started working on that," the 21-year-old University of Guyana Biology student said.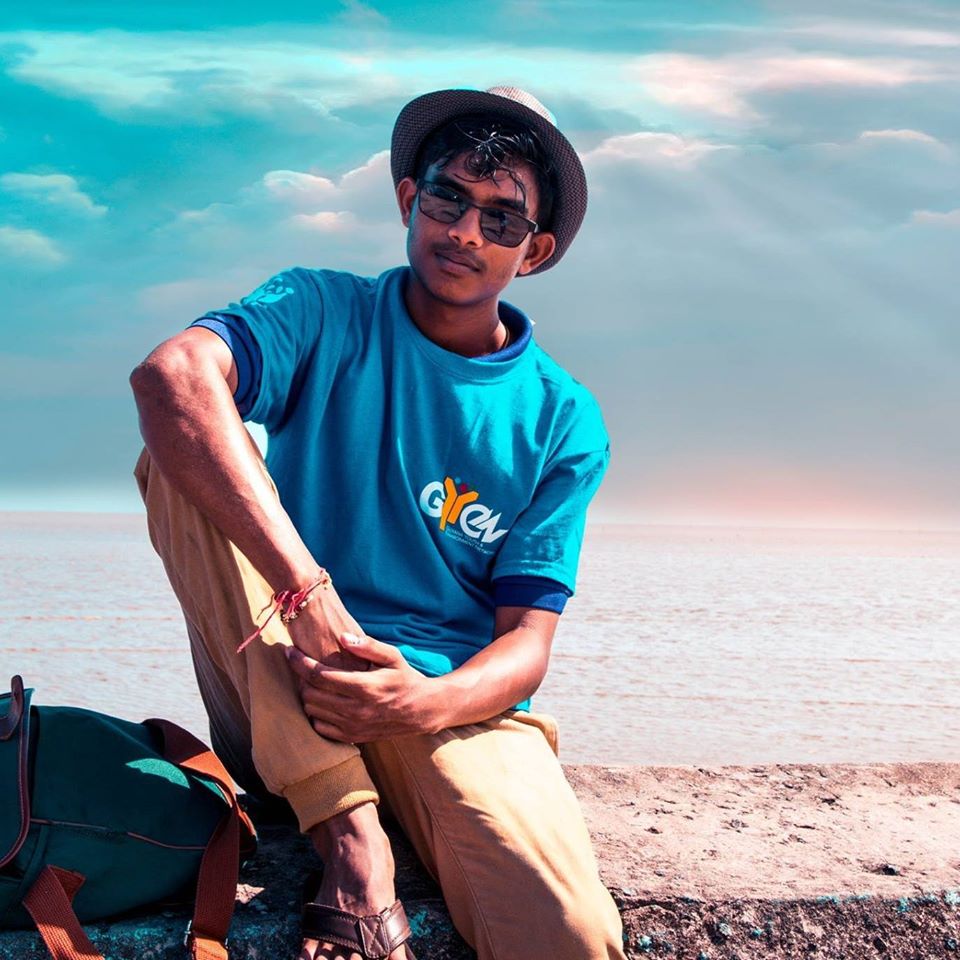 Somwaru always had a knack for creating things and is especially curious about anything in the science field. Though still pretty young, he has been building computers from a young age but according to him, the website posed as a bit of a challenge since he is not that versed in coding.
He had a vision for the website and needed to accomplish that, so he did what was needed to get there – he began learning the coding he needed to know.
"My knowledge was somewhat limited in coding which was essential for the website I wanted. See in this day and age, it is very easy to make a website with a few clicks of a button; however, the website I made wasn't that simple. I needed to insert my own designs that I wanted and the features as well. So, essentially, I was learning to code as I was coding (for the website), so it took me well over two weeks to actually put the website in place. This was done; granted, I did have an existing understanding of the Java and HTML5 coding languages, but my knowledge was just not as in-depth as was required," he said.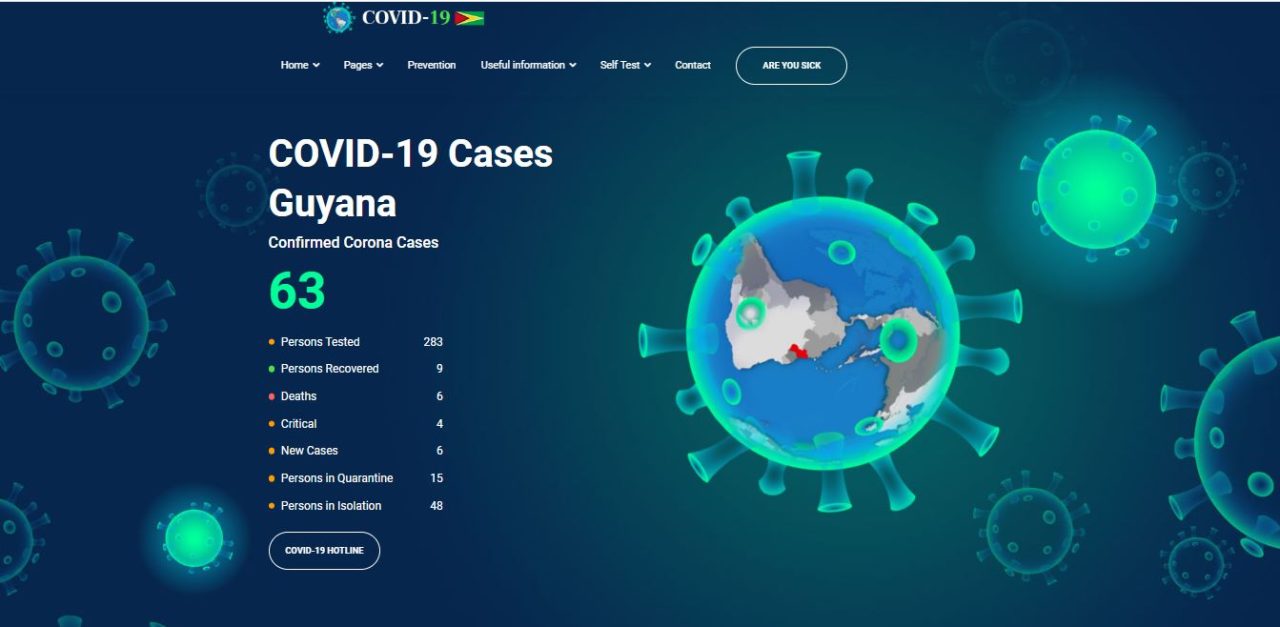 In explaining how the website works, the young man related that it was very simple since it employed an Application Programming Interface (API) – which are a set of functions and procedures that allows applications to be created so that they can access the features or data of an operating system, application, or other services. With the employment of the API, Somwaru's website is updated in real-time, which means as soon as the Ministry of Public Health releases information, the site is updated with all the number of confirmed cases, deaths, recoveries, persons tested, and persons in quarantine.
"The website was officially launched on April 13, 2020. It is updated in real time, meaning as soon as new information is made available, my website updates. So, if the Ministry announced at 12 pm that we got two new cases, my website would also relay that information right away," he explained.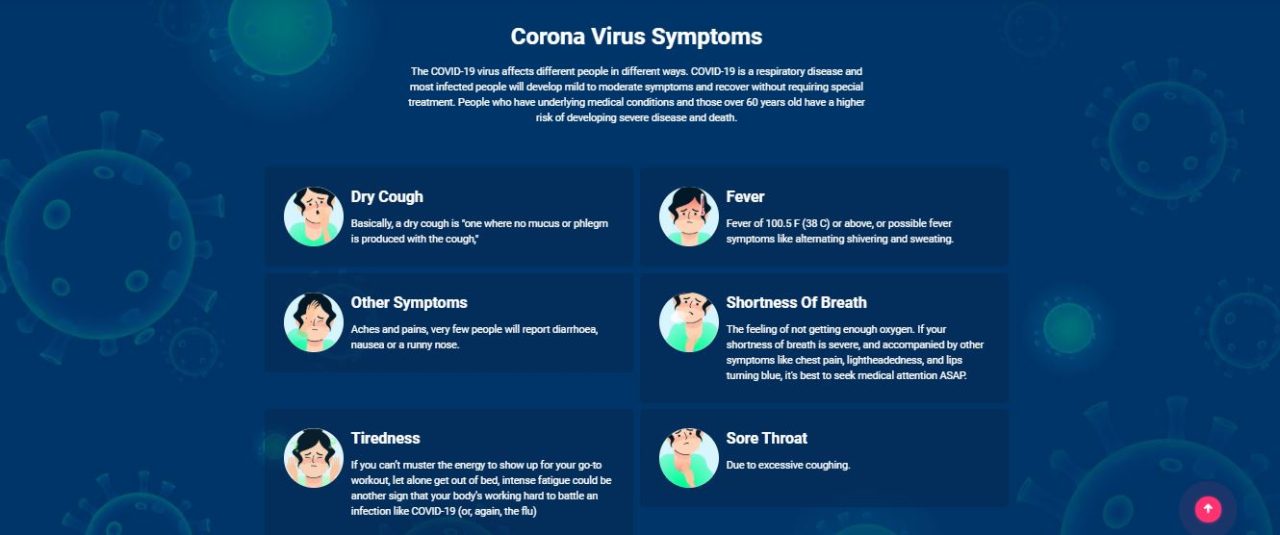 The website is equipped with a self-testing feature, which is a set of questions mandated by the World Health Organisation (WHO). These questions can guide persons into deciding if they need to get tested or not. Additionally, the website also links to the Public Health Ministry's self-testing application and allow persons to access the COVID-19 hotline contact details along with a link to global stats.
https://www.caronavirusgy.com/ also gives information on how the virus is spread, how you can protect yourself along with links to various blogs published by the Ministry, WHO, and the Red Cross among a whole host of other verified information.
"One feedback that I've gotten is, it's very 'graphically pleasing'. The domain is www.caronavirusgy.com and most people would say 'well' it's supposed to be corona and not carona, but coronavirusgy and covid19gy were not available. At the moment, I am also working on a COVID-19 Caribbean tracker," Somwaru revealed.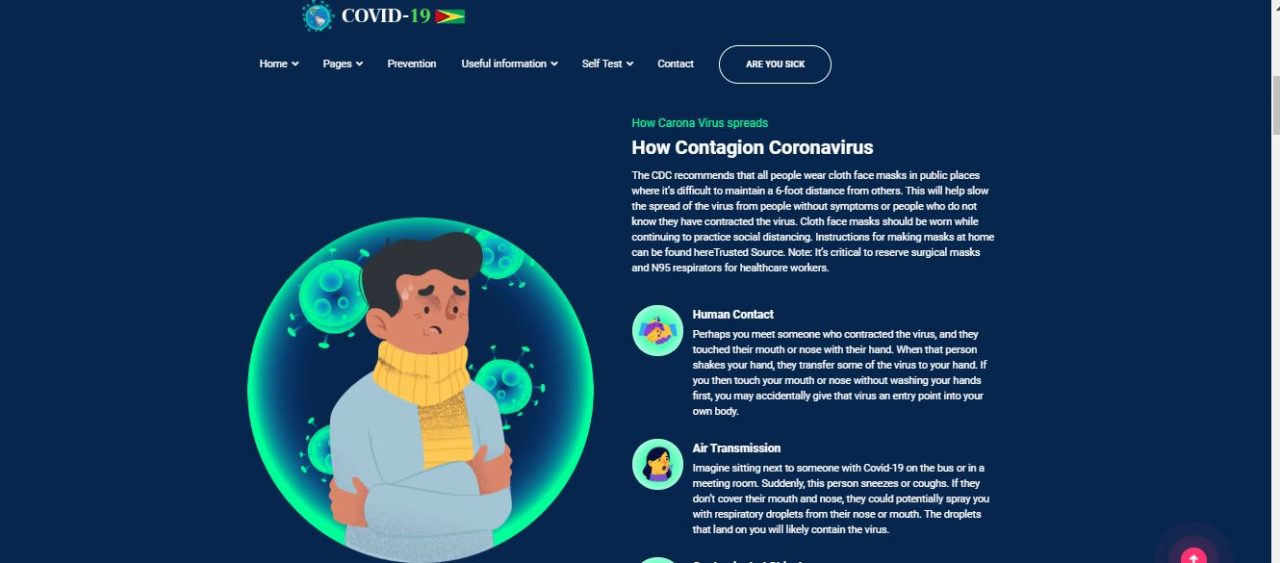 Somwaru's fascination with computers began around the age of eight when his family got their first computer. According to him, it was one of those huge desktops, an HP Compaq, and he remembers it being very expensive to service. Unbeknownst to his parents, he started to tinker with it and little by little, he learnt about the operating system and the various hardware.
Around age 12, was when it got really interesting when the Internet came into play.
"When we got the Internet and that's when my knowledge of computers became more in-depth. By 13, I had built my own computer from scratch and continued onto this day. I've built over 12 computers to date, with various specifications.," he said.
It was a combination of everything he knew that led him to build his website that now educates in a time of need.
Somwaru is also a talented photographer. According to him, people have a tendency to underestimate his abilities, but that never bothers him.
"Most people that know me would quickly realise that I'm very small built especially for my age, so I was always looked upon as weak or always underestimated. Not that it bothered me, but even boulders have tiny cracks so it does get to me sometimes even if it's only for a split second," Somwaru said.
According to the WHO, coronaviruses (CoV) are a large family of viruses that cause illnesses ranging from the common cold to more severe diseases such as Middle East Respiratory Syndrome (MERS-CoV) and Severe Acute Respiratory Syndrome (SARS-CoV).
COVID-19 is a new strain that was discovered in 2019 that had not been previously identified in humans. Coronaviruses are zoonotic, meaning they are transmitted between animals and people.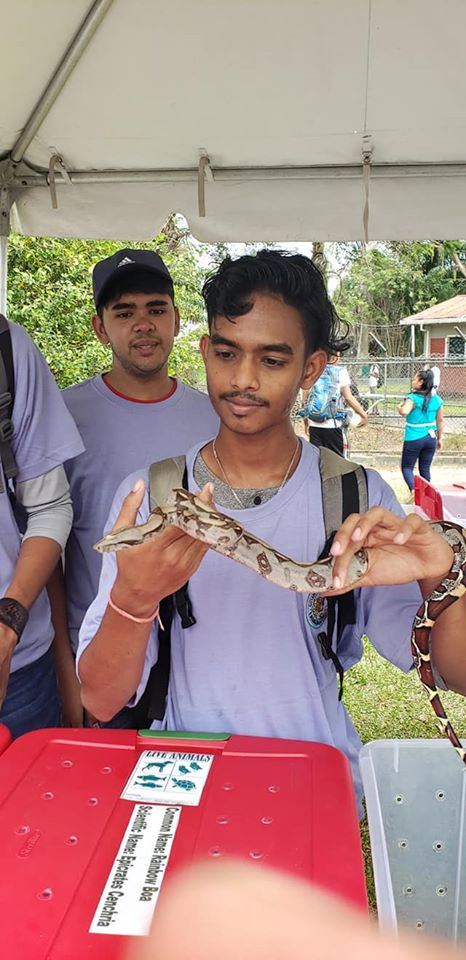 Common signs of infection include respiratory symptoms, fever, cough, shortness of breath, and breathing difficulties. In more severe cases, the infection can cause pneumonia, severe acute respiratory syndrome, kidney failure, and even death.
The Public Health Ministry is calling on all citizens to heed the health advisories and observe the correct hygiene measures and precautions. Citizens are also asked to always practise social distancing in the workplace, public spaces, and while using public transportation so as to reduce the spread of the coronavirus disease.
If anyone is experiencing symptoms of the coronavirus, they are asked to call the hotline on 227-4986 ext 215 or 624-3067 and a team would be sent to their location. The Regional Hotline numbers are Region One (Barima-Waini) – 674-8047; Region Two (Pomeroon-Supenaam) – 682-4210; Region Three (Essequibo Islands-West Demerara) 254-1261, 254-0313; Region Four (Demerara-Mahaica) – 231-1166, 226-7480, 624-6674, 624-3067; Region Five (Mahaica-Berbice) – 624-9000, 624-2000, 640-3000; Region Six (East Berbice-Corentyne) – 682-3055, 668-4449; Region Seven (Cuyuni-Mazaruni) – 675-9131, 654-0405, 697-0656; Region Eight (Potaro-Siparuni) – 608-7517, Region Nine (Upper Takatu – Upper Essequibo) 772-2206; and Region 10 (Upper Demerara-Berbice) – 444-3007, 444-6127, 444-6137.