– encourages both sides to work together
Just a few days after her return to the land of her birth, Guyana-born Black Panther star Letitia Wright on Monday visited the National Assembly where Members of Parliament (MPs) are examining the budget estimates, to spread a message of peace and love.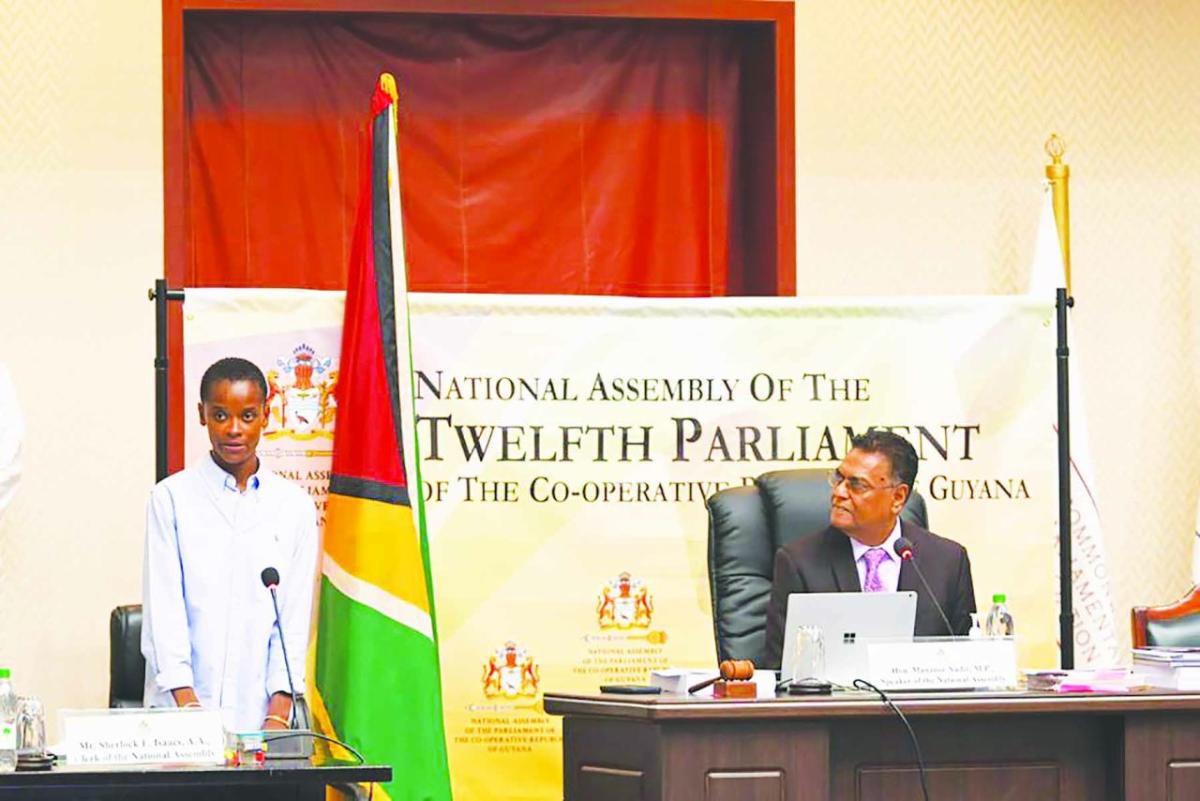 In her address to the MPs, Wright lauded both sides for coming together in the spirit of advancing Guyana's interests and urged them to continue working together. In fact, the movie star expressed pride in the MPs.
"I want to thank all those who invited me home. And I just want to encourage you all. I don't know the ins and outs of politics. I care more about children and the betterment of young people. That's kind of where my Ministry is. But as you all come together to make decisions for the country, I encourage you both, on both sides, both parties."
"I encourage peace. I encourage love. I'm of peace and love. And I'm proud of you both and everybody working together for the betterment and empowerment of our country. So, God bless you both as you go forth and make this country a better place. From both sides. I honour you all."
Her message was well received by both sides, with Prime Minister Brigadier (retired) Mark Phillips, who leads Government business in the House, assuring her that she is welcome and that they will continue to support her.
"On behalf of all the Members of Parliament and staff of the Assembly, we welcome you with open arms to Guyana and to this House and we feel honoured that you were able to not only spend time with us but to address us. And we look forward to you enjoying the remainder of your stay in Guyana. And be assured that we will continue to follow your endeavours in the future," the Prime Minister said.
Meanwhile, Alliance For Change (AFC) MP Cathy Hughes expressed pride in Wright's accomplishments and reiterated the PM's message of support for her. She also noted that the star's direct interaction with the youths will have a positive impact on them.
"I'm sure you know that throughout the world and especially in Guyana, the impact of your movies really brought a lot of self-esteem and worth to many young people, who very rarely saw dark skin supermodels. And the encouragement you've given to all the young people, we thank you for that."
Liberty and Justice Party (LJP) Leader and Deputy Speaker Lenox Shuman meanwhile hailed Wright as a beacon of hope for those who come from similar circumstances as she did.
"I just want to extend a very heartfelt appreciation for you, coming to Guyana and being such a fantastic role model for so many, not only in Guyana but across the world. And I think what you represent to so many who come from similar circumstances, is hope," Shuman said.
Wright will be spending a few weeks in the country where a number of activities are planned. On Saturday, she visited the Iwokrama International Centre for Rainforest Conservation and Development.
Back in November, President Irfaan Ali had congratulated Wright on the success of the Wakanda Forever sequel of Black Panther, and had extended an invitation for her to visit her homeland.
Wright also appears in Avengers: Endgame; Avengers: Infinity War; Death on the Nile, Sing 2, and the Silent Twins among others.