Field foremen/forewomen attached to Blairmont and Uitvlugt Sugar Estates took to the picket line on Thursday, calling for fair treatment and equal opportunities.
The workers are peeved over a five per cent salary increase which was given to their colleagues who were recently confirmed.
This increase sees these persons with fewer years of service earning more than their colleagues.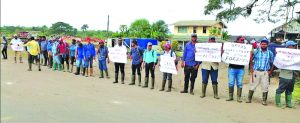 Almost all of the 41 other foremen/forewomen attached to the estates participated in the demonstration, calling for the alleged discrimination to end.
"End discrimination now," they chanted.
On Tuesday, the foremen/forewomen said they voiced their concerns with the estate manager, but were not satisfied with the outcome of that meeting.
Adelki Jackson, a foreman for the harvesting gang, explained that they were seeking to have a level playing field.

"So, we here now as old staff of the same Blairmont Estate with some of us having 16 years' service are dissatisfied with the decision that they took. At the meeting, they claim that it is not their responsibility for wages. The manager said that it was the CEO's decision to give the five per cent," Jackson told Guyana Times.
The Blairmont Estate workers are contending that the decision was made at the Guyana Sugar Corporation (GuySuCo) head office and not at the estate level.
"All of us out here came in as trainee foremen and after the training programme, we were never given any test. Therefore, if that is the case, why don't they take us through the same process and let us get the same test?" workers are contending.
Meanwhile, the Guyana Agricultural and General Workers Union (GAWU) in a statement on Thursday said that a similar exercise was held at Uitvlugt Estate, West Coast Demerara.
At Uitvlugt Estate, workers from several departments picketed to register their dissatisfaction over what they called "unequal treatment". They highlighted that some of their colleagues received pay increases in recent times. The workers shared that they brought this concern to the attention of the estate management which undertook to conducting some checks and provide a response by Thursday; however, when they arrived for the meeting, management informed them it could not offer a response.
According to GAWU, the workers enquired when would it be possible to hear from the estate, but received an evasive answer.