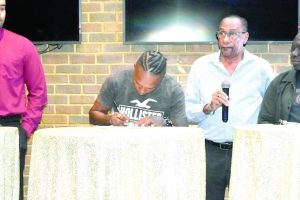 Bouts have been confirmed for the highly-anticipated "Return of the Scorpio" boxing card, set to be hosted at the National Gymnasium, Mandela Avenue, Georgetown, on 21st May, 2023.
Currently, the pro-am card for the event has five bouts lined up. The opening fight of the night is a 4-round heavyweight clash between Guyana's Anthony Augustin and Emmanuel Anderson of Barbados, who is making his debut in the competition.
The next fight is a super bantamweight 4-round bout that would see Guyana's Terrence Adams trading blows with Ricardo Blackman jr. of Barbados, who is also making his debut.
In the third match of the night, Darianis Garcia comes up against Natalie Delgado in a super flyweight 6-round battle; and Luis Carillo of Colombia will challenge local sensation Dexter Marques in a super flyweight 8-round contest in the penultimate event of the night.
The feature attraction will see Ramos Ronald of Colombia facing off with Guyanese pugilist Elton Darry in a bantamweight 8-round event.
Additionally, both Jackman sisters, Alesha and Alicia, are set to compete in the amateur segment of the event.
According to the organizers, all professional pugilists have signed their contract, with Marques being last to sign his contract during a simple ceremony at the 704 Sports Club on Tuesday afternoon.
In brief remarks at the contract signing event, Promoter Seon Bristol stated, "I am happy to be back into this fraternity in regards to the promoting of boxing in Guyana, and boxing as I say in general. We all know this is a pro-am show, so I'm happy that I have been able to collaborate with the Guyana Boxing Association in regards to bringing all on board."
The doors of the National Gymnasium will be opened at 7pm, with admission costs varying from $6000 for VVIP, $5000 for VIP, $3000 for Ringside, and $1500 for stands. Organizers are looking forward to a packed event.