BCB/New York Business Group Under-19 20/20 Tournament
One day after surrendering their 50 overs title to Albion, the Rose Hall Town Pepsi Under-19 team bounced back to capture the 20/20 version of the Berbice Cricket Club (BCB)/New York Business Group Under-19 Tournament on Sunday last.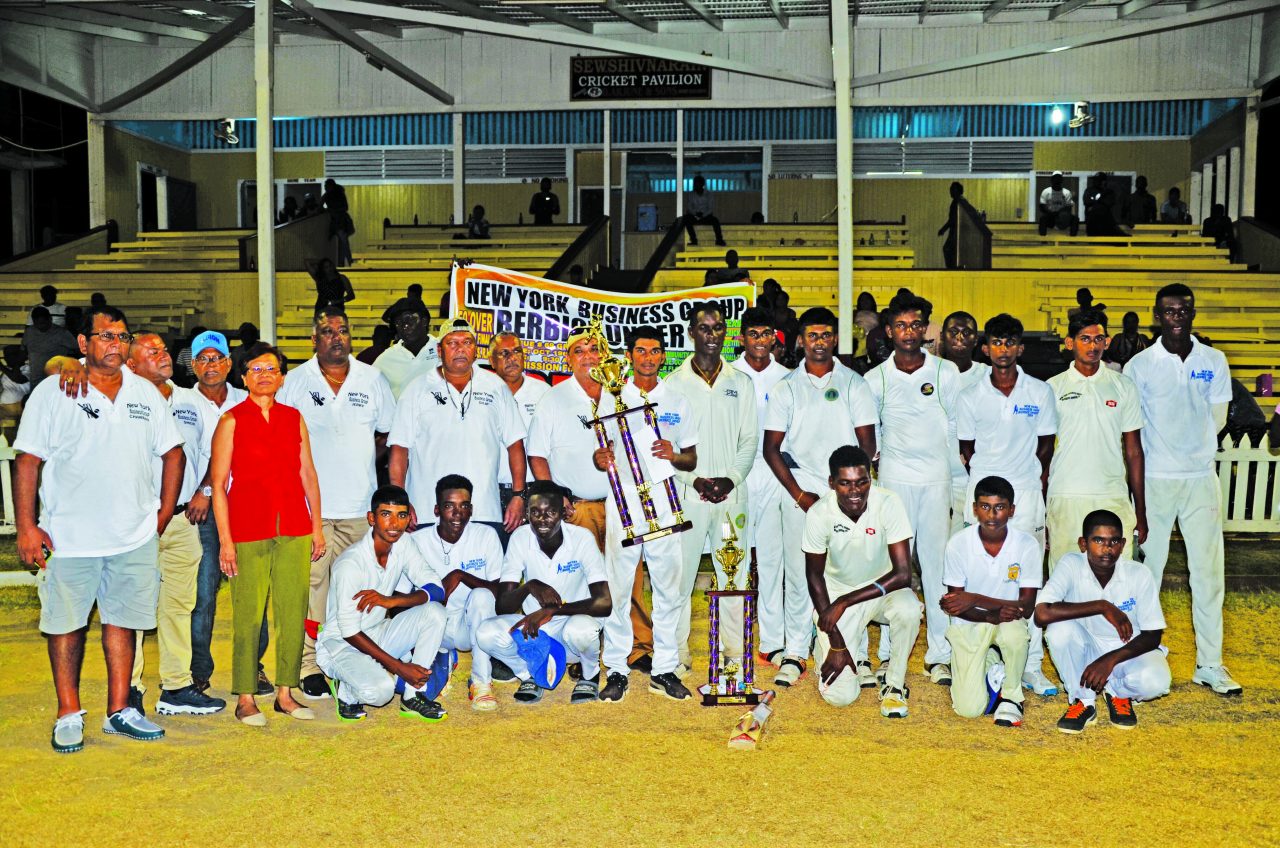 Strengthened with the addition of Kevlon Anderson, Junior Sinclair, Mahendra Gopilall and Jonathan Rampersaud, Rose Hall Town Pepsi held their nerve to defeat Albion by 18 runs on the back of a majestic 80 from West Indies Under-19 middle-order batsman Kevlon Anderson despite a fighting 52 not out from Albion Captain Reyad Karim.
Albion's team were also strengthened for the finals with the addition of GCB franchise players Gourav Ramesh and Kevin Umroa. The entire final was played under lights in front of a large and colourful crowd, which included a group of the New York-based businessmen who sponsored the tournament.
Rose Hall Town Pepsi won the toss and elected to bat first. They suffered a big loss when national player Junior Sinclair was given out, stumped off Ramesh for five in the first over. Anderson, batting at the crucial No 3 position, joined Mahendra Gopilall to add 30 crucial runs for the second wicket before Gopilall was caught off the bowling of Leon Cecil for 11.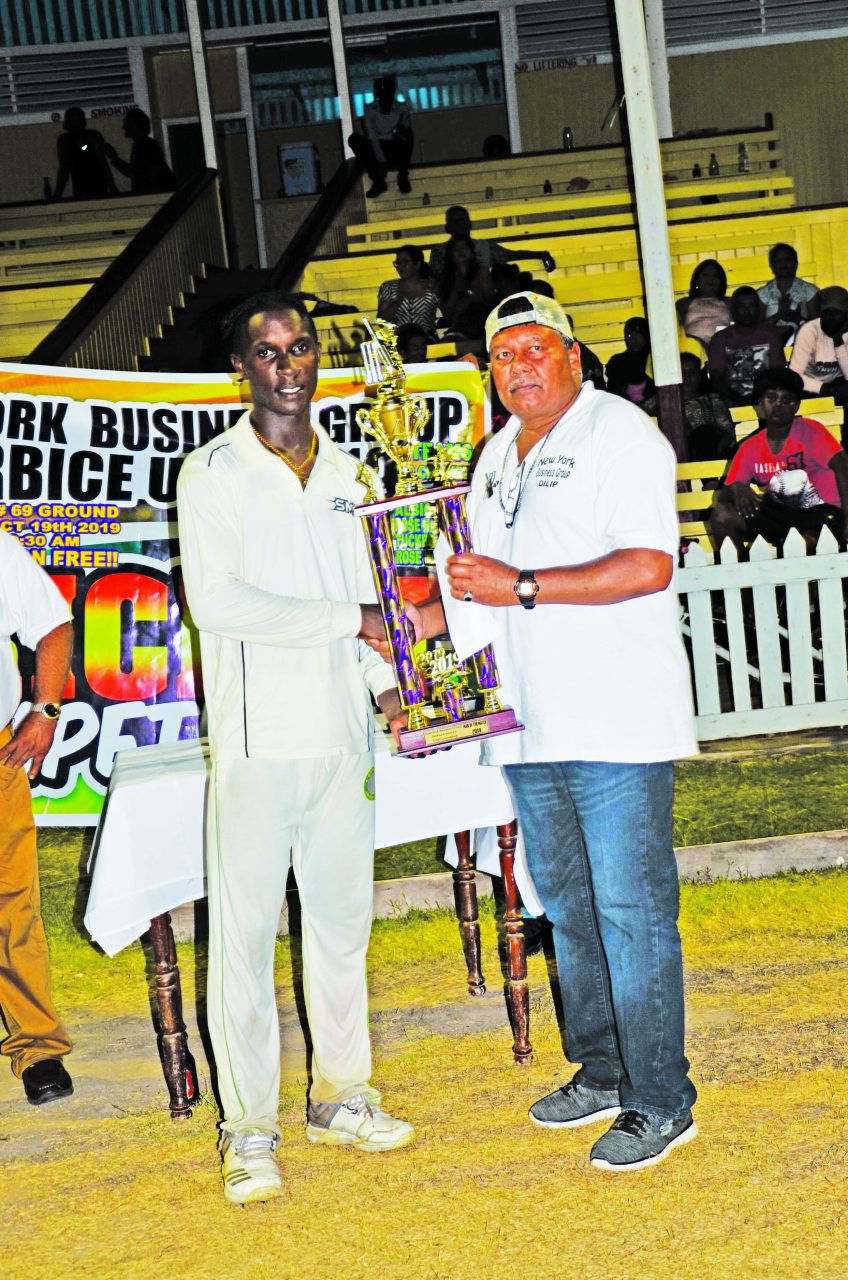 Anderson went on to strike seven sweetly-timed boundaries in his 80 and received vital support from Kevin Sewraj (10); Tyrese Sealey (11) and Nicholas Lawson (09) not out. Ramesh and Beesham Surujnarine took 3 for 29 and 3 for 27 respectively for Albion as RHT ended on 131 for 7.
Anderson returned with the ball to dismiss pinch hitter Umroa for zero off the second legal ball of the innings. Jetendra Outar and Reyad Karim took the score to 46 for 1 in the fourth over as Karim took 25 runs from an over from off-spinner Tyrese Sealey. Junior Sinclair then dismissed Outar for nine and fellow off-spinner Jonathan Rampersaud then trapped national Under-17 batsman Sarwan Chaitnarine lbw for seven as Albion slipped to 54 for 3.
Karim struck six boundaries in his top score of 52, but apart from Anthonio February (16) and Surendra Ramcharitar (18), none of the other batsmen reached double figures as they were bowled out for 113 off the final ball of the innings. Kevlon Anderson took 2 for 19 (4 overs), left-arm spinner Jeremy Sandia, 3 for 3 (2 overs) and Junior Sinclair 3 for 12. Earlier in the day, Albion defeated Rose Hall Canje in the first semi-final while Rose Hall Town Pepsi defeated Tucber Park by four wickets in the second semi-final.
Kevlon Anderson was named Man of the Finals while RHT Pepsi carried home $75,000 and the winning trophy. Albion collected the runners-up prize and trophy. Albion Community Centre President Vemen Walters, whose club organised the sponsorship from the businessmen, hailed the tournament as a success and the outstanding leadership of BCB President Hilbert Foster. A representative of the New York Business Group expressed satisfaction at the success of the tournament and stated that the group would sponsor both the 20/20 and 50 overs tournament with a bigger package.
Albion on Saturday had dethroned RHT Pepsi at the No 69 Vikings Ground in the 50-over version with a comfortable 120-run victory. Anthonio February starred with the bat with 74 while off-spinner Surujnarine took four wickets.