…Queensway Group of Companies donates US$5000
Caribbean Advanced Proficiency Examination (CAPE) top achiever Sherlock Junior Langevine is now worry free in his quest to further his education at Stanford University in the United States of America.
At the end of May, Guyana Times published Langvine's appeal to raise US$8400 to cover his parents' contribution to Stanford which will go to part of his living expenses and books for the course of his studies at the university. Now, less than a month later, he has surpassed that goal, having raised almost US$12,000 on his go fund me page in addition to other contributions from Government, businesses and individuals.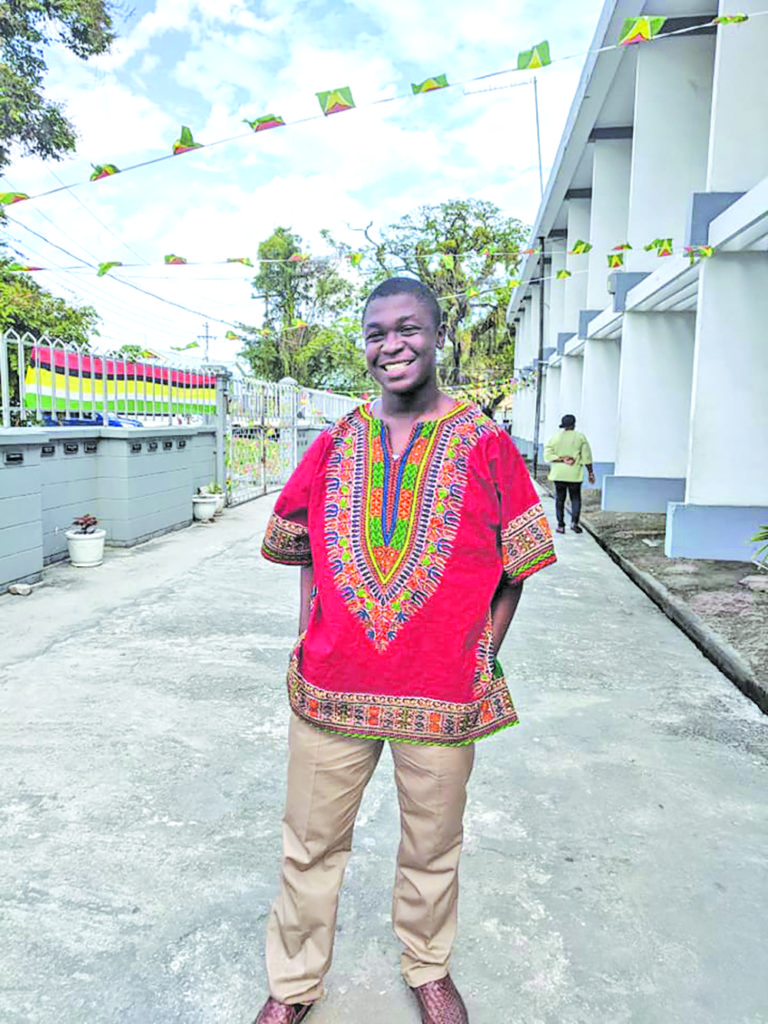 On Thursday, the Queensway Group of Companies handed over a cheque of US$5000 to the 19-year-old to assist with pursuing his studies in the field of chemical engineering.
Chief Executive Officer (CEO) of the Queensway Group of Companies, Mohamed Qualander told Guyana Times that they reached out to Langevine after reading about his appeal in this newspaper. He said that the company thought it would be a great investment to support the young man in his educational pursuits.
"I thought that it was a very commendable effort for the young man to be able to get a scholarship to attend the university especially for someone like him coming from his humble background. I think it is a good opportunity for him to improve. It is also an opportunity for his family also because once he can take advantage of the opportunity a Stanford education can bring to him, he would be able to transform that into doing something great for himself and his family," Qualander related.
He added "As part of our corporate social responsibility we would identify specific projects or situations that we can assist. We have a lot of challenges in terms of our people so where we can help out, we help out. We don't only help out with education we would also assist in helping people to improve their living standards, we assist in medical care and most of all we start with our staff."
Langevine has since expressed his gratitude to the company as well as everyone else who contributed to his fundraising campaign. The young man has since met with President Dr Irfaan Ali who also made a commitment to supporting his academic pursuits.
"I realised that I'm not alone, and that my support system extends beyond what I'd ever thought I'd need.
From launching my own GoFundMe campaign to meeting the President, I managed to make swank out of the lemons life threw at me. And, that was only possible because of God and the strength, persistence, and creativity he endowed me with: traits that were further honed by the people He strategically placed in my life. Tonight, I want to express my gratitude to God and everyone who has supported me and will continue to support me as I embark on my life's journey. As I dig even deeper in reflection on those whose support has inevitably led me to where I am, the first that comes to mind is my parents. My mom's unwavering presence through thick and thin alongside the support of my dad, was the motivation that kept me pressing on to be the best that I can be," the young man wrote in a social media post earlier this month.
Langevine gained CAPE Grade One passes in Pure Math Unit 1, Environmental Science Units 1 & 2, Geography Units 1 & 2, Biology Units 1 & 2, Chemistry Unit 2, Entrepreneurship Unit 1, and Communication Studies. He secured Grade Two passes in Pure Math Unit 2, Chemistry Unit 1, Physics Unit 1, Management of Business Unit 2, Applied Math Unit 1, Integrated Math, and Caribbean Studies.
He was recently accepted to Stanford University on a US$324,000 scholarship.
When asked why chemical engineering and computer science, Langevine said "Chemical engineering is necessary and I would be able to contribute to the development of the Caribbean as a whole and not just Guyana. Everyone gets into Stanford undecided but I do plan on going on the path of chemical engineering and computer science. I felt like chemical engineering is the way because I am very good at chemistry. I got a perfect score at my chemistry SAT and I really like chemistry throughout my school life and I really like mathematics and working with numbers and so. I feel like it is a broad field that encompasses all of my interests. I am interested in applied sciences and I am passionate about chemistry."
He is hopeful of being accepted in Stanford's summer programme which commences in August and if he is unsuccessful then he would commence classes on September 13, 2021.