The United Nations International Children's Fund (UNICEF) in collaboration with the Childcare and Protection Agency (CPA), Blossom Inc and the Regional Democratic Council (RDC) of Region 10, on Wednesday, opened a one-stop "Child Advocacy Centre" (CAC) in Kwakwani, for the reporting and treatment of child sexual abuse.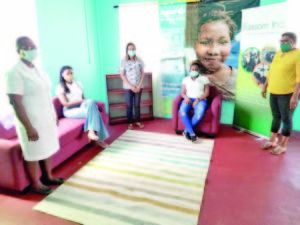 The Centre will offer specialised services that were designed to respond to cases of child sexual abuse efficiently by ensuring that children have access to a child-safe and child-friendly space to share their stories, and to get the support they will need to help them overcome the trauma they have suffered.
"Being child-centred, the one-stop facility ensures that survivors do not have to recount their experiences any more than necessary," UNICEF explained.
The new Child Advocacy Centre is expected to serve the community of Kwakwani and other Upper Demerara-Berbice communities that were not able to access specialised service, due to the distance.
The Centre will be opened to all communities, including migrants. It will also provide a hub for training to ensure that the CAC concept can be extended to other communities.
As of June, the number of reports of child sexual abuse in Guyana exceeded 200, and access to services is critical, given the possible increased rates of violence due to the COVID-19 pandemic. A report issued by the United Nations in April warned that children risk being among the largest per cent of victims of the COVID-19 pandemic.
While children have been largely spared from the direct health effects of the disease up to this point, the crisis is having a profound effect on their overall wellbeing, including a heightened risk of witnessing or suffering violence and abuse.
"We are delighted to open this Child Advocacy Centre in Kwakwani to respond to and prevent child sexual abuse. This will ensure that children and families in the hard to reach communities in the Upper Demerara-Berbice can receive this critical service," said Founder and Managing Director of Blossom Inc, Ayodele Dalgety-Dean. "Blossom Inc is passionate about ensuring that child victims of sexual abuse receive the best possible service, and this means that we must take services to children," UNICEF explained.
Meanwhile, UNICEF further underscored that they collaborated with the organisations to ensure the continued operation of five other Child Advocacy Centres in the country – including at Linden, Mabaruma, and Georgetown.
"The services have gained the trust of the communities," said UNICEF Country Representative Sylvie Fouet.
They further added: "These essential and core child protection services are critical in ensuring that there are safe spaces, especially in times of COVID-19″.