Mashramani 2019
By Rupa Seenaraine
Parading through Georgetown with artistic costumes that captured our diverse culture, every region of Guyana was represented as revellers of all age groups presented their pieces at the annual children's float parade on Saturday.
Gyrating to popular soca music from local artistes, their energy only increased under the midmorning sun which demanded constant hydration. It seemed as though the cheers of spectators along the journey fueled their bodies to keep on moving without hesitation, enjoying the kaleidoscope of colours.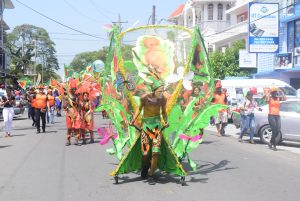 Beginning at Parade Ground, the children took the traditional route as they made their way along Middle Street, turning onto Camp Street, then Lamaha Street and at last, Albert Street which led to the final venue – the National Park.
Revellers from the nursery level were tasked with celebrating Guyana's flora and fauna while the primary bands highlighted folklore myths and beliefs. The secondary school bands showcased a futuristic approach, aimed at technologies and industrial processes which Guyana is expected to execute in the coming years.
One of the costumes which left the crowd astonished was from the Department of Education from Region Four (Demerara-Mahaica), which was laden with historical structures such as the St George's Cathedral and Stabroek Market.
Acting Regional Education Officer, Tiffany Harvey represented the band and told Guyana Times, "We're portraying our economy, where we want to be and where we want to get Guyana on the international market."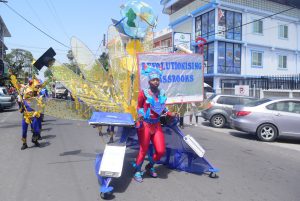 Little energetic students from St Christopher Nursery were decorated with flowers and bees, creating more than just a spectacle. They were led by seven teachers, one of whom emphasised that they are bringing out the "Garden of Good Values".
She said, "Our children are so small, so it is very imperative that we teach them good values and moral as stepping stones for life."
Rondella Williams came from as far as Region Seven (Cuyuni-Mazaruni) to partake in her region's float. She noted that the preparations were very difficult but it was rewarding as they were hoping to win in the respective category.
However, Ayeisha Dueva of Tucville Secondary School said their band entered the competition for the excitement.
"We're in it to win it. We're showcasing our robot in black and gold. His name is Bumblebee. For us, we're just here to enjoy ourselves," the roisterer posited.
Graham's Hall Primary also executed an impressing float, taking the folklore beliefs seriously with Kanaima disguised as a jaguar.
Carrying the humongous float, Luhana Cockfield related, "It depicts an Amerindian man called a Kanaima which turns itself into any animal but the most common animal is a jaguar and that's the one we're doing."
While the streets were seemingly embedded with hundreds of revellers, this was countered with scores of onlookers, watching on keenly at the moves but moreover, psyched about the intricate outfits which matched perfectly with each other and, of course, the floats.
Brenda Rodney, a regular at the event said, "I think it's very nice. It's good to see that they're so rejuvenated about what they're doing and what it's all about. It's a good initiative and it's really large and colourful."
Some covered themselves with large umbrellas while others embraced the sun and celebrated the activities as a family event. A few tourists who were passing also looked on at what was transpiring.
As the entourage left the asphalt thoroughfares, they made a dramatic entrance into the National Park at Thomas Lands where another show-stopping performance was executed. By then, persons were already trickling into the ground as they readied their eyes to capture the routines.
This culminated in a series of activities such as dance, masquerade, calypso, dramatic poetry, physical display and singing, which were organised by the Education Ministry to usher in Guyana's 49th Republic Day celebrations.
However, the Social Cohesion Ministry has a few items left to execute, which includes the Masquerade Jamboree at the Stabroek Square on February 21. The Flag Raising Ceremony will be hosted on February 22 to usher in the annual Costume and Float parade on February 23. The Mashramani festivities do not end on February 23 this year, as a Champions in Concert activity is slated for March 9, in Mahdia Region Eight (Potaro-Siparuni).
Mashramani will be celebrated next Saturday under the theme "Celebrating 49 with victory in mind: Rediscovering El Dorado" where more persons are expected to participate in the Republic Anniversary commemoration.