In a tournament that promised riveting action even before the first whistle was blown, the KFC Goodwill Football tournament delivered nothing less on completion of the first period of play on Saturday night.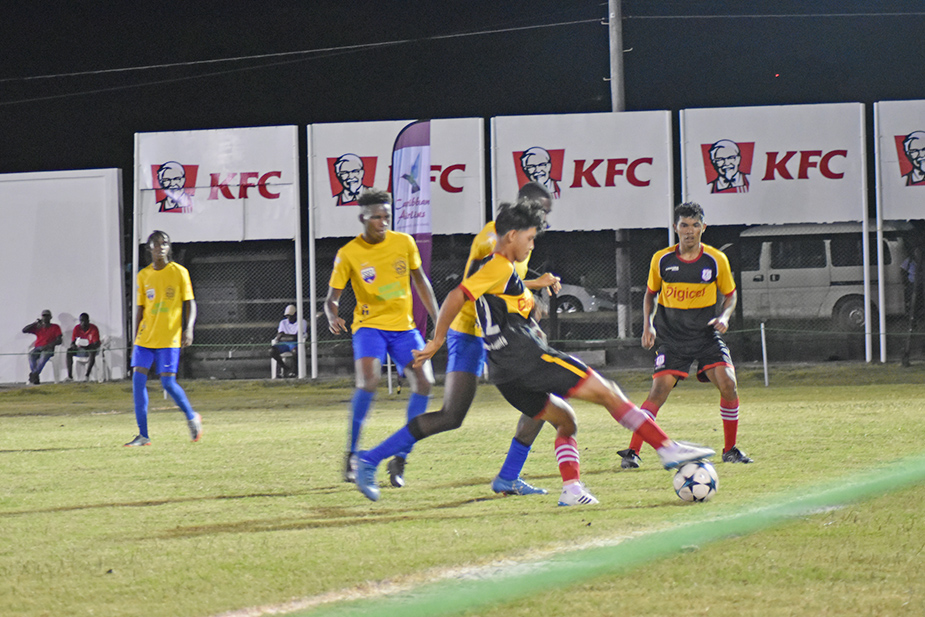 With the action taking place at the Ministry of Education Ground on Georgetown's Carifesta Avenue, the four teams — Annai Secondary, Annandale Secondary, Christianburg-Wismar Secondary, and Shiva Boys Hindu College out of Trinidad and Tobago — played their first matches of the three-day tournament with first the Trinidadian visitors challenging the Rupununi boys of Region 9 in a high-paced encounter.
Although known for their skill, the Annai team could not match the Trinidadian side, and were often outplayed. Allowing themselves to be beset by nervousness, the Annai side conceded a penalty to the Shiva Boys early in the encounter, and Gesiah Bishop expertly took the opportunity to deposit the ball at the back of the net for the Shiva Boys' first goal.
Aside from a bout of single-handed play from Annai Captain Orville Daniels, the first half of the game was mainly uneventful; but the second half saw a more determined Annai Secondary matching pace with Shiva Boys. However, luck was not on their side, and they netted three offside goals.
Nikel Rawlings of Shiva Boys then added another goal to their tally to seal the victory for Shiva Boys at 2-0.
The second encounter of the night saw a rematch of the ongoing battle between Annandale Secondary and Christianburg-Wismar; and once again the Linden team prevailed. In their previous meet, in the Guyoil/Tradewind Tankers tournament, the Lindeners had emerged 5-1 winners. This time around they were made to work harder, but the result was the same.
The attacking sorties by both teams were relentless, but neither side could penetrate the other's defence. The first player to do so was Omari Glasgow of Annandale, minutes before the first half had expired.
In the second half, Christiansburg-Wismar pulled off a scintillating comeback, with Andre Mayers netting back-to-back goals in the 78th and 80th minutes to give the Linden side the lead. But the encounter was not over, as Annandale's Kurt Rudder found the back of the Linden net to equalise the scores. The game was plunged into steamy extra time that bore no fruit, making way for penalties.
Here, Christianburg-Wismar proved to be the better of the two teams, connecting with their target five times as opposed to Annandale's three.
Christianburg-Wismar and Shiva Boys currently lead the tournament, but Shiva Boys will have the edge on goal difference. The four teams will return tomorrow, December 18, for their second day of play; when Annai Secondary will take on Christianburg-Wismar and Annandale will do battle with the Shiva Boys.