Promising Guyanese pugilist Keevin Allicock started his Commonwealth Games 2022 campaign on the right track on Saturday afternoon.
The first member of Guyana's three-member boxing team to step into the ring, Allicock came up against Nicholas Okongo Okoth of Kenya in a Bantamweight Round-of-32 bout. Fighting in the red corner, Allicock, coached by Terrence Poole and Sebert Blake, was unstoppable, impressing the panel of judges.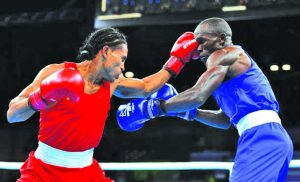 At the end of three rounds, the judges, hailing from Sri Lanka, Botswana, Canada, Bulgaria and Fiji, unanimously graded Allicock with all tens, as compared to 9's for his opponent. As such, the Guyanese won the bout unanimously, and will move on to the Round-of-16.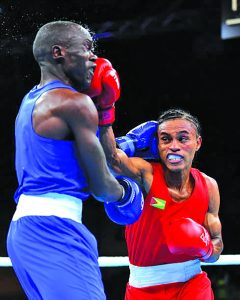 "It feels good, you know, to start off with a victory for the team. The performance was good. Going forward, it will be much…better," Allicock said following his victory on Saturday.
When quizzed about his mindset going into the bout, Allicock answered, "I thought about a lot of things, even to when I was small (and) training, you know, coming up in the sport of boxing. At the Commonwealth Games is where it all started. I think of that, and I said, 'God will do it again'. So, I'm here keeping focus and heading for the goal.
"I'm trusting God all the time, because He's the One that's doing this for me; I can't win these bouts on my own. So, just to stay calm and keep focused. This is just the beginning of something great, and we will execute well again," an optimistic Allicock has said, as he looks ahead to the remainder of the Commonwealth Games.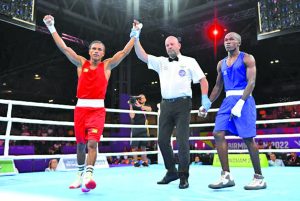 Guyana's Light Welterweight boxer Colin Lewis is set to head into the ring today, Sunday, against Louis Richarno Colin of Mauritius, and Desmond Amsterdam will also be in action in the Middleweight class today. He is making his Commonwealth Games debut against New Zealand's Emile Richardson.