By Jarryl Bryan
A career in conserving the environment may not be viewed as a primary career and may not even be promoted to secondary school students; but, according to experts from Conservation International (CI), the field is a niche that offers a number of rewarding career opportunities.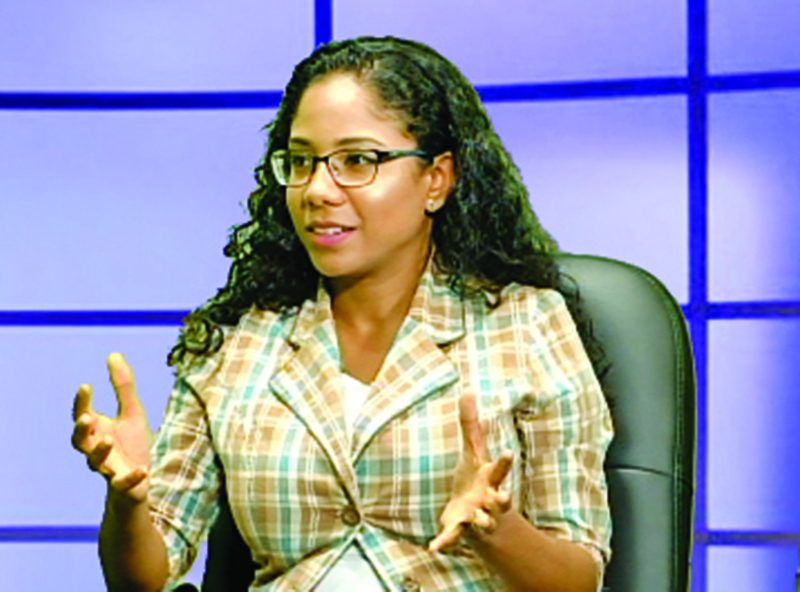 Speaking during a recent panel discussion, spatial data analyst Kerryann Insanally and communications coordinator for Conservation International, Sarah Parrot, urged that consideration be given to careers in the field of conservation — a global response to the climate change phenomenon.
Insanally noted that, throughout their school lives, students are usually urged to set their sights on primary careers such as medicine, law or engineering, causing many youths to have a disconnected perspective on nature; but it is important that an analysis be done on young demographics in order to better understand what they do care about.
"How can they recognise their role as a citizen even though they are young?" she rhetorically asked. "We have a young student — less than 25 — as a biologist, who started off wanting to do medicine and then realised he didn't even want to do this; he didn't even like blood. Then, thinking about conservation biology, he started a tremendous career path in Jaguar field work and bird inspection. These are niche fields and things that young people are passionate about. It's just the exposure, and having that knowledge at an early age that (you) don't just have to be a doctor or a lawyer or an engineer.
"There are many other fields (that young people can be engaged in); like my field, for instance," she declared, explaining that as a spatial data analyst, she uses remote sensing or satellite imagery in order to monitor what is happening on the ground and in forests.
"So these are not things that are taught in primary education. They are new fields, and I think that if at an early age the young people can tap into that, that's where we can get that thrust we are looking for," she explained.
"Globally, there has been a shift (from the mainstream). After pursuing studies in certain fields, they want to make sure you come out with a specific specialisation. So they are already heading in that direction, especially countries in the developing world, the Caribbean and so."
She noted that with the advent of climate change, these academic and professional fields have taken on new meaning; and it is an undeniable fact that persons are feeling the effects of climate change.
"It is felt in different ways in different countries and by people on the ground. The farmers themselves, the people that use the rivers (etc), they know that things are not the same. So yes, climate change has been a very big thrust," she declared.
The group also stressed the importance of ordinary people getting more involved in conserving the environment.
The group is expected to have a meeting with Education Minister Nicolette Henry, and Parrot emphasized that anything to get children more involved — whether through arts or clubs — would be helpful.
Government recently split the Ministry of Education, creating a Department of Education which reportedly would drive innovative reforms.
During a recent engagement with the Guyana Manufacturing and Services Association (GMSA), Finance Minister Winston Jordan explained that theMoE's Department of Education would increase focus on Science, Technology, Engineering and Mathematics (STEM).
Green policy
And expounding on the importance of natural capital, Insanally noted that, compared to other countries, Guyana has an abundance of natural capital. "Going green is a country's natural capital. What are these resources that we have that we can depend on? When we say 'going green', we're not just talking about the environment; we are talking about livelihood and people's use of the environment," she explained.
Insanally noted that Guyana relies heavily on the environment. This, she said, means everything: from fisheries to agriculture to forests to the extractive industries; all are important contributors to Guyana's economy. She also observed that rural and hinterland communities depend on their natural environment in different ways than coastland dwellers and city residents would interact with it.
"As a country, talking about a green policy is actually a commendable step. It's a global perspective. It's not something Guyana is doing on its own," she said. "Guyana is part of a unique eco-system called the Guyana Shield… We have a lot to offer to the world…, and these are things that we need to protect and ensure that we are putting things in place to sustain," she advised.
She also noted that while the indigenous people of Guyana, with their strong spiritual connection to the environment, are traditionally viewed as the protectors of the environment, protecting the environment is everyone's business. She thus stressed that more inclusive policies and involvement are needed from the citizenry.
"There is something (we all can protect) — the conservancy, the blacka, the cane fields. All of these things are nature, but we perceive them in different ways," Parrot said. "That is what the nature campaign is built on: How do we speak to different Guyanese groups in their particular sub-cultural context?" she explained.
"Nature is not just something beautiful found off the coast. Nature is found everywhere, wherever you live in Guyana; and you need it," she advised.
The panel was asked about protecting the environment in view of the diverse economic activities carried out by sections of society, such as loggers and miners, and Insanally sought to dispel the perception that conservationists wanted a blanket ban on such activities.
"I think that is the biggest misconception about conservation. When we say 'conservation', we mean using things sustainably. So yes, we have to use our forests. We cannot say you cannot mine or log or extract minerals. Essentially it is to become more efficient in what you do. In that way, you're conserving the eco-system around you. For the foresters, it is ensuring that they don't log near to rivers. And these are practices that are already in place. We're just ensuring that (those practices are) kept and done more efficiently," she explained.
Conservation International is a non-profit environmental organisation with a Mission Statement that entails protecting nature and its biodiversity. Formed in 1987 and based in the United States, the organisation works in more than 30 countries and with over 1000 partners, ranging from governments to indigenous groups, multinational corporations, community leaders and international inter-governmental partners.
In the case of Guyana, the local branch assists in recommending courses of action, shaping policy, and creating a development model.