"…we will support you…so that you can get back on your feet"
President Dr Irfaan Ali has revealed that the Civil Defence Commission (CDC) has advised that the flood situation across the country is now a Level 2 Disaster – which means that the country can now lobby for international support.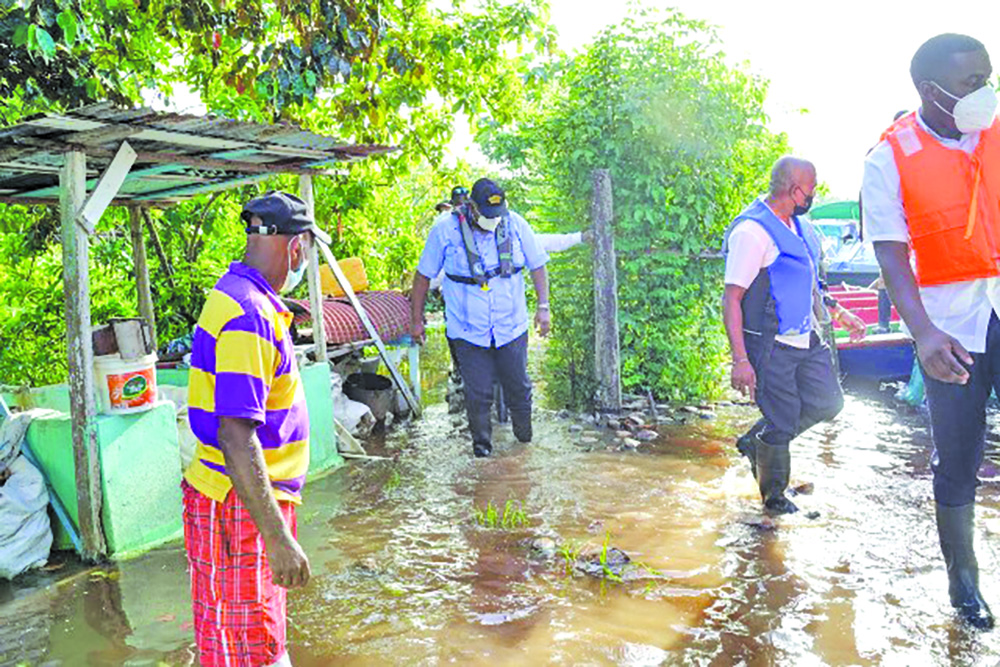 The Head-of-State on Wednesday visited flood-affected residents on the Corentyne, Region Six (East Berbice-Corentyne). It was during his visits that he made the announcement about the current stage of the nationwide floods.
According to the Caribbean Disaster Emergency Management Agency's (CDEMA's) Regional Response Mechanism, a Level 2 Event is one in which the national capacity to respond is not overwhelmed, but some external assistance is required.
The Civil Defence Commission (CDC) has reported that all ten administrative regions in the country are affected by flooding. It has also reported that over 25,000 households across 300 communities have been affected.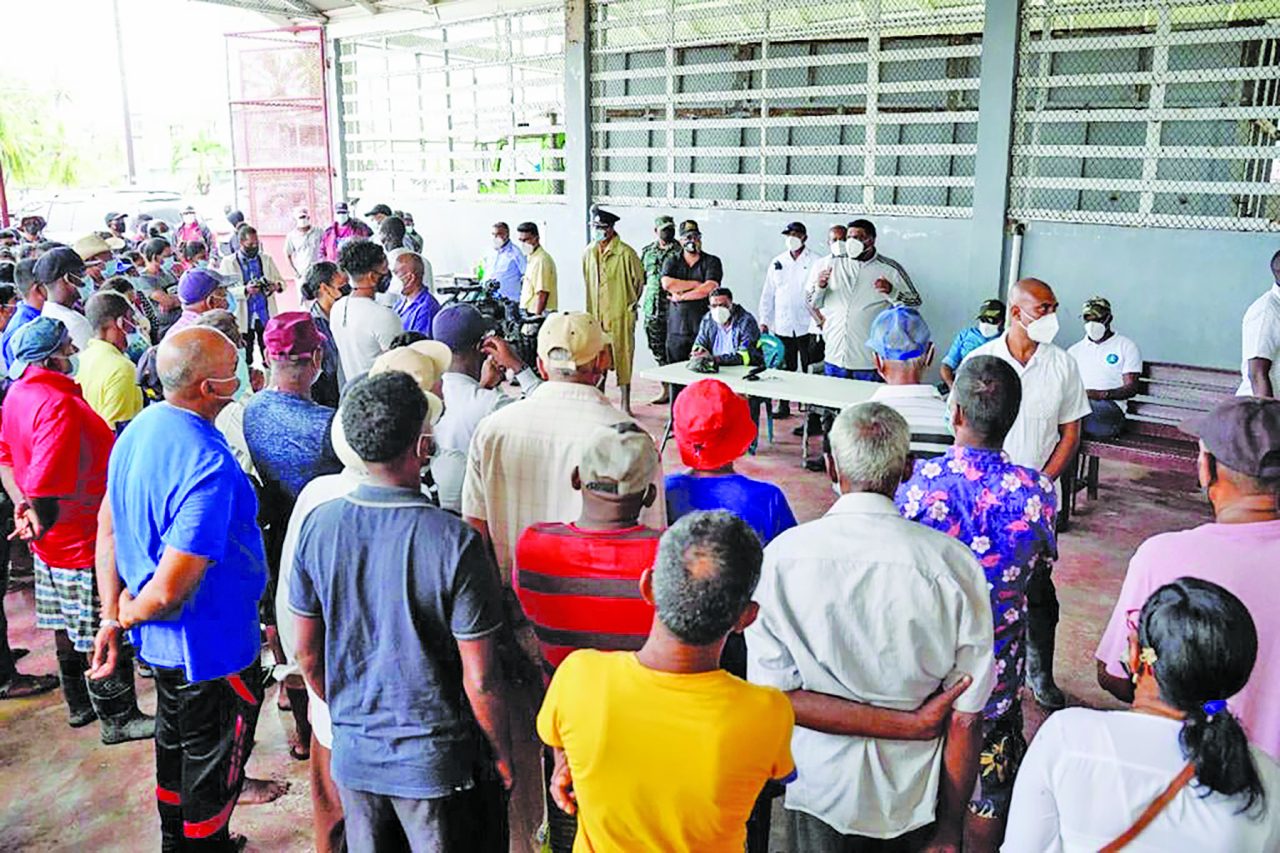 The Head-of-State has already visited a number of flood-affected villages across the country. The President started his tour on Wednesday with a visit to Fyrish, where residents lamented the lack of support during the current flood.
According to some of those residents, they have not been benefiting from assistance as other communities. They noted that poultry has died. Many of those residents make a living out of farming, and the backlands have been flooded, killing all of their crops.
"The water returned this morning," one resident told the Head of State.
Residents of Fyrish also asked for a proper drainage and irrigation system to be implemented in that community, and for that system to be maintained.
Walter Archibald said all of his cash crops have been wiped out due to the flood. However, he told this publication that the water levels have been dropping over the past three days.
"Since they put that pump there, the water started to go down," Archibald said.
Those residents also asked for the outfall channel to be cleared at Hogtown.
President Ali assured of his Government's comment to assist all affected areas.
At Kilcoy, Nazir Hossein said that with the cultivation area under water, sugar workers will not have employment. However, President Ali assured his administration would ensure that persons have employment.
"We have been investing in the sugar industry because we want people to get back their jobs, so we will not let you down. Already we have employed eighteen hundred people… Don't worry about it, your jobs will be secured."
Over at Port Mourant, the President expressed concern and noted that he personally flew over several regions and saw firsthand what is happening in the country.
"There is a lot of water which has to come down," he declared.
The President added he is aware that crops and livestock have died due to the current flood.
While addressing residents, the Head of State explained that, apart from the flood, Guyana is also dealing with the global pandemic, and has invested in vaccines.
This was in response to a request for financial relief to families affected by the flood.
President Ali also noted that the pandemic has cause world prices to skyrocket.
"It used to cost US$2500 to ship a container from China, now it is US$12,500. We will support you after the flood, so that you can get back on your feet," President Ali assured residents at Manchester, Corentyne.
Those residents claim that every time a machine is sent to that community to execute work, it is removed before the work for which it was sent is completed.
"Every time, they come and carrying it away to another community, and this thing going on for years, one resident told the President.
According to President Ali, as much as is possible, Government would like to install pumps in every community, but the Government doesn't have all those pumps.
Accompanying President Ali to the Corentyne were Minister of Agriculture Zulfikar Mustapha; Minister of Local Government and Regional Development, Nigel Dharamlall; Director-General of the CDC, Lieutenant Colonel Kester Craig; Head of the NDIA, Lionel Wordsworth; and Regional Six Chairman David Armogan, among others.
The Head of State also met with residents of Port Mourant, Manchester, Mibicuri and Johanna in the Black Bush Polder, and had several other engagements with affected communities along the Corentyne Coast. During the interactive engagements, officials from the various agencies were able to brief residents in the communities on the progress of interventions in their respective areas.