– Guyana-USA team marks occasion with Goodwill Series
The First Cuba-Guyana Solidarity Softball Cricket Tournament which was played in Havana on March 4-5 was deemed a resounding success.
The Miramar Masters Cricket Club is an all-Guyanese team from Florida, USA which comprises 38 members. The touring party was led by Consul General in Florida, Ramzan Ali, and played against three Cuban teams, including one female softball team.
The three Cuban Teams are Los Capitanes de la Habana and Rutas y Andares (male) and Giraldillas Habaneras (female).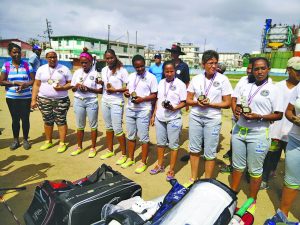 The Tournament is significant since this year marks the 100th anniversary of Cricket in Cuba. The Organizers from the Cuban side were Silvia Cabesas, wife of the former Cuban Ambassador to Guyana, Lazaro Cabesas and Humberto Herrera and Lisandro Cabesas.
In the four matches played, Miramar Masters CC lost three while the lone win came against the female team who also showed great fight.
At the conclusion of the games, Guyana Ambassador to Cuba, Halim Majeed hosted a Reception for the Guyanese and Cuban Teams at his Residence. The Consul General in Florida, Ramzan Ali indicted that the Miramar Masters Cricket Club will make the trip to Cuba an annual feature.
A quick look at the history of cricket in Cuba shows that the island nation was invited to participate in the 2008 edition of the Stanford 20/20, and was drawn to play Saint Maarten in its preliminary round match. However, the U.S. embargo meant the team was forced to withdraw, as the tournament's primary organiser, Allen Stanford, was an American citizen. Despite the match being cancelled, it was still given the status of an official Twenty20 match. An eight-match tour of Saint Vincent and the Grenadines was arranged as a replacement for the Stanford tournament, and Cuba won 2 of the 8 matches. Cuba were also invited to the 2010 Americas Championship Division Four tournament, played in Mexico, but again had to withdraw, having been prevented from leaving the country by the Cuban government.