ExxonMobil U14 Football Tournament…
Cummings Lodge Secondary pulled off an emphatic victory over Carmel Secondary to clinch the ExxonMobil Under-14 Football championship back in August, and were yesterday rewarded for this win in a simple ceremony held at the school.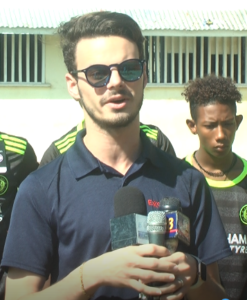 As is the norm with school football tournaments, instead of receiving cash, the victorious team is given opportunity to identify a school project it wishes to complete. In the case of Cummings Lodge, that school chose to solidify its football department with uniforms, bibs, balls, training nets and other training gear, in order to keep its football team active and well outfitted.
Coach of the Cummings Lodge team, Keron Fontanelle, in receiving the donation on the school's behalf, expressed immense gratitude to the sponsor and organizer of the tournament.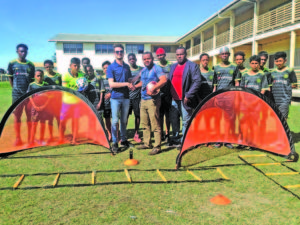 "First of all, we'd like to thank the Petra organization and the ExxonMobil Company. We'd like to thank you for the chance to be in the U14 tournament.
"We're proud to know that, as a result of winning, we can up our game to a next level; so we want to truly thank you guys once again," Fontanelle declared.
ExxonMobil's Community Relations and Communications Manager Nicholas Yearwood explained that it is always a great feeling to be able to present a school with the prizes it has won. He alluded to the company's continued partnership with the Petra organization, and said the following;
"At ExxonMobil, we are happy to make investments like these. This is our second year running, and we're quite happy with the way it has progressed from last year to now. It is always good to be here at these events, it's good to be able to hand over the winning; and we look forward to more partnerships with ExxonMobil and Petra."
Also speaking at the ceremony was Petra Co-Director Troy Mendonca, who spoke of the value of ExxonMobil's investment while thanking the company for the continued support.
"We're very happy for the company's investment in the youths, and today is a representation of your commitment towards your social responsibility as a company. It's not just the equipment that your investment will go into, but to help develop these youngsters, and other youngsters who come through will have equipment to practice."
Following an exemplary run in the preliminary round of the ExxonMobil U14 tournament this year, Cummings Lodge came against Carmel Secondary in the final. The encounter went all the way to arrive at a winner, after regulation time ended with the scores on 1-1.
Extra time was also thrilling, as Cummings Lodge took the lead, only for Carmel to equalize once again.
However, in the penalty shootout, Cummings Lodge outplayed Carmel Secondary to win by a margin of 4-3.
The winner of the female version of the ExxonMobil U14 tournament was East Ruimveldt Secondary.