…air services agreement on horizon as Guyana accredits new Nigerian Ambassador
A new, non-resident Czech Ambassador has been accredited to Guyana, and she has declared her intention to seek closer economic cooperation between her country and Guyana — an intention President Dr. Irfaan Ali made clear he would support.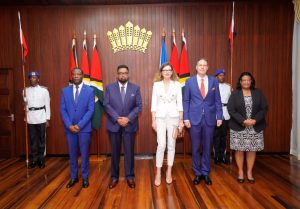 New Czech Ambassador to Guyana, Sandra Lang Linkensederova, presented her Letters of Credence to President Dr. Irfaan Ali on Wednesday. In welcoming her accreditation, President Ali pledged to support her objectives of seeking closer ties with Guyana.
"Your appointment provides ample opportunity for us to continue to strengthen these ties. The challenges of the 21st century transcend borders. If the COVID-19 pandemic has taught us anything, it is about our interconnectivity and our interdependence. We should therefore not ignore what can be achieved collectively.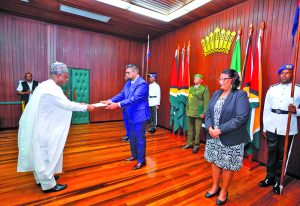 "Guyana is on a path of economic transformation and diversification leading to sustainable development. We recognise that if we want to achieve sustainable development as a developing country, one of the things we must have is food security," the President said.
President Ali urged Ambassador Linkensederova to seek cooperation in the areas of agriculture, as well as providing assistance in the health sector. He expressed hope that a practical programme of bilateral cooperation between the two countries could be launched.
Opportunities
Meanwhile, Ambassador Linkensederova, in her address, spoke of the opportunities partnering with the Czech Republic provides. She made it clear that her country wants closer economic ties with Guyana.
"Although it's a quite small country, with 10 million inhabitants, it is a very highly developed country…so we offer a lot of opportunities in machinery, in automotive, among others. In the past, our countries had less bilateral (partnerships) than deserved. So it will be my mission and my task to change this reality," the Diplomat said.
The Czech Republic is considered the most industrialised European country, and manufactures various heavy-duty equipment applicable to the sugar industry. It has previously been reported that the Czech Republic was interested in Guyana's sugar industry, currently being resurrected.
It was reported earlier in the year that the Berbice Estates of the Guyana Sugar Corporation Inc (GuySuCo) had surpassed 50 per cent of their 2022 1st crop sugar production target, and were on course to surpass their crop targets for the first time since 2018.
GuySuCo had revealed that these estates are at a half way point in the crop. It was explained that, as at March 31, 2022, the Berbice Sugar Estates had produced 54 per cent of their aggregate sugar targets.
In the case of Albion and Blairmont, GuySuCo had said that these estates produced 5,407 and 4,447 metric tonnes (MT) respectively. Meanwhile, Uitvlugt Estate, which was at the time out of grinding operation for over four weeks as a result of a mechanical failure, made 66 MT in the limited grinding time.
Nigeria
Meanwhile, a new Nigerian Ambassador, Abubakar Danlami Ibrahim, has also been accredited. President Ali told the Ambassador that he is looking forward to the continued exchanges between the two countries in the area of defence, as well as the possible signature of the negotiated bilateral air services agreement.
"Such an agreement will aid in the expansion of our trade relationships with Nigeria —an area which our two nations have already begun to embark upon. And it will also help to create vital connections on a regional and international scale," President Ali said.
The President pointed out that since both Nigeria and Guyana are oil-producing nations, they can share experiences. Additionally, he noted that they can explore opportunities to cooperate for economic security.
Guyana's Low Carbon Development Strategy (LCDS) was also brought up, with the President explaining that it aims to facilitate Guyana's economic transition to cleaner and cheaper energy. Additionally, its inclusion of climate and ecosystem services will also allow the country to map out its investments in climate change adaptation and mitigation.