… DDL expanding rum aging capacity
In order to protect its Demerara Rum quality and brand, Demerara Distillers Limited secured a Geographical Indication (GI) registration, making it the first company in Guyana and the Caribbean to have such a registration. Chair of the DDL Group of Companies, Komal Samaroo, made this disclosure at the launch of the Master Blender's Special Edition Rum for the upcoming Caribbean Premier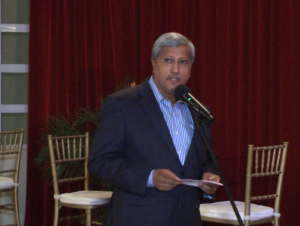 League T/20 cricketing competition.
A geographical indication is a name or sign used on certain products, which corresponds to a specific geographical location or origin. Article 22(1) of the World Trade Organisation Agreement on Trade-Related Aspects of Intellectual Property Rights (TRIPS) Agreement says "Indications which identify a good as originating in the territory of a member, or a region or a locality in that territory, where a given quality, reputation or characteristic of the good is essentially attributable to its geographic origin."
The GI tag ensures that none other than those registered as authorised users (or at least those residing inside the geographic territory) are allowed to use the popular product name.
"We have succeeded in securing the registration of Demerara Rum as the Geographical Indication to be used only for rums produced in the Demerara region of Guyana. The registration will prevent others from using our origin to pass off their product because there is a lot of that taking place. As you create premium value and premium image, there is a whole set of fake products that try to capitalise on your brand and we are very conscious of this and we have seen it happening," Samaroo disclosed.
He said that the El Dorado brand rum continues to "blaze new trails" sets new horizons and noted that the company is recording an increase in the number of consumers utilising their products. In order to safeguard the quality of their product, the company will be advancing the GI registration to the European market. Samaroo, met with the head of the GI Division in Brussels about two weeks ago to advance the process.
"We would like to thank the Government, especially Minster Carl Greenidge, who was very instrumental in securing technical assistance for us to advance that process and build the Government capacity to be able to process our application," he related.
Increasing rum aging capacity
Samaroo said they are also investing in the expansion of the company's capacity for storage and aging of its rums. "We are investing very significantly in the company in projects to give us the capacity to meet our anticipated growth… there is construction going on to build another warehouse to age another 30,000 barrels of rum to support the growth we are projecting, that would take us to over 100,000 barrels of rum we have aging at any point in time," he said.
He added that they are also in the process of designing a modern automated blending system that will allow for faster blending and bottling to meet the growing demand of the market place.
Samaroo also advocated for responsible alcohol consumption, noting that nothing is good when used in excess. The company follows and adheres to the marketing code of the West Indian Rum and Spirits Producers Association whose standards are based on the standards set by the International Alliance for Responsible Drinking.