By Timothy Jaikarran
The Guyanese contingent will be departing for the Dominican Republic tomorrow as they prepare for the National Mini-Cadet and Pre-Cadet Table Tennis Tournament. Dwain Dick, head coach of the Titans Table Tennis Club, is optimistic that the members of his club would record creditable performances in the tournament.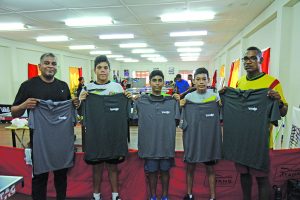 In an interview with Guyana Times Sport, Dick said, "We are hoping to qualify for the mini- and pre-cadets Pan-Am Games. I was just informed that because of lack of funding, one of our key members of the boys under 13 team (Dhanesh Persaud) will not be able to attend. I hope this doesn't affect the morale of the team. The girls under 11 team is a young team who went for the exposure last year. They are two 9-year-olds (Jasmine Billingy & Akira Watson), Samarra Sukhai is 8yrs, so they have a few years left to compete in this category.
"Jasmine (under 9, 11 national girls national champion) and Jonathan Van Lange (national under 13,15 & 18 boys' champion) have been very dominant locally this year, and should be able to put in some great performances. They have vastly improved from last year, and we hope for a team medal."
He also said that in terms of what the team needs to work on, the boys under-13 have all the technical tools, fitness, experience and tactical awareness to come good, but the lack of competition and exposure may leave a window for error.
Dick noted that the girls under-11 are a work in progress, as they are a part of the Titans Club development programme for long-term development, while under-11 boys are still young and need more overall development.
Asked about final preparations for the contingent, Dick replied, "We did some mental conditioning in terms of simulating the conditions they would face: which was getting up early and getting into the competitive zone quickly and staying concentrated for long playing periods."
Also throwing his support behind the team was owner of the Beacon Café, Kumar Ramdeo, who presented to the participants T Shirts with their names.
The titles up for grabs are teams, singles, doubles and mixed doubles in all categories. The team will not be participating in the Under-13 mixed doubles because of the absence of an under-13 girls' team.