Minister of State Joseph Harmon, who holds responsibility for the Civil Defence Commission (CDC), on Thursday said the responsibility of disaster risk management and response rests not only with Central Government but rather, it requires a concerted effort from every member of society.
The Minister was at the time delivering the feature address at the opening of the first Annual Regional Disaster Risk Management (RDRM) Conference for Regional Chairmen and Regional Executive Officers from the 10 administrative regions at Cara Lodge, Georgetown. He noted that Regional Democratic Councils (RDCs) are a very important layer in the governance system of the country and particularly in disaster risk management and response, since it is the first responder to the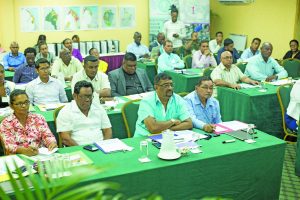 needs of the citizens in their respective regions.
The Minister is quoted by the Ministry of the Presidency as saying that Guyana has been experiencing the effects of climate change since the massive floods of 2005 which left many communities across the country inundated. Since then, Guyana has experienced several disastrous situations as a result of climate change and global warming. These disasters, he said, severely affected the livelihoods of many villages and the overall economic and infrastructural landscape of the respective regions. Disaster risk management and response planning must therefore become a concern of every stakeholder.
Harmon then noted that the Conference will become an annual feature that will see all regions coming together and planning for the year as there is requirement for this system all across the country.
Director General (Ag) of the CDC, Lieutenant Colonel Kester Craig in his remarks to the gathering said this year's Conference was held with the aim of examining the strengths, weaknesses and opportunities in the Regional Disaster Risk Management System, which the Commission has already rolled out in eight of the 10 regions. Additionally, he noted that the work of the regions as it relates to disaster management in 2018 has been reviewed while plans for 2019 are being finalised.
To date, the CDC has produced 24 community disaster risk management plans, five municipality plans, six disaster risk assessments and a risk assessment for Region Four (Demerara-Mahaica). It has also finalised and handed over eight regional multi-hazard preparedness and response plans to eight regions. The Commission hopes to complete Region Four and Region Eight's (Potaro-Siparuni) regional multi-hazard preparedness and response plans by the end of 2019, thereby equipping all of the regions to prepare for and respond to emergencies and disasters.