Government has moved towards mandating that drug suppliers register all their drugs with the Government Analyst Food and Drug Department (GA-FDD). This will be in line with new drug procurement systems.
This was highlighted by Ministry of Public Health Technical Advisor Cecil Jacks during a recent workshop for Regional Health Officers (RHOs) held at the Lake Mainstay resort.
According to Jacks, who advises on global health supply chain management, suppliers who won bids for supply of drugs did not register imported items with the GA-FDD.
He blamed this for the inefficiency in regard to prescribed drugs being given to patients. Jacks pointed out that this problem is simply because the evaluation aspect of the tendering process is not being effectively implemented.
"There is a bad practice in Guyana where, when the Evaluation Committee is nominated and selected by (the National Procurement and Tender Administration Board), they don't do their jobs; they depend on the procurement assistants from (Materials Management Unit) to do the evaluation, and then just send them the report and they sign off. We learnt (about) that," he said.
"That is a lesson we learnt; so the new trend now is to get these evaluators, lock them in a room for like a week or two, get the evaluation out of the way, and let us proceed," Jacks explained.
According to Jacks, the Ministry of Public Health also did not have a proficient procurement unit. This, he said, affected the way regional procurement was handled through the ministry.
"For the very first time in its history, we have recruited an entire procurement unit, so we have literally built a procurement unit from scratch," Jacks explained.
It is understood that the staff that were recruited are currently being trained to understand the procurement system. Programme heads within the Public Health Ministry are also being trained to be compliant with various aspects of the procurement exercise and system.
Stressing the need for quality drugs to be streamlined into the health system, Jacks noted that at least one supplier who had previously been awarded a contract to supply drugs did not have at least 75 percent of procured drugs registered.
This, Jacks added, is more than an oversight by the evaluators. He said the fact that the quality of the drugs is not assured can mean that patients may not be getting adequate treatment for a specific illness.
The Technical Advisor cited an example: "Quality is important. I had an experience in Region Two (when) a patient was given the Ministry of Public Health's Metformin and the numbers (blood glucose reading) remained the same, (but) they switched to a private service branded Metformin and the numbers just kept coming down. So it means that there is a quality issue, and that is why registration with the FDD is important," Jacks explained.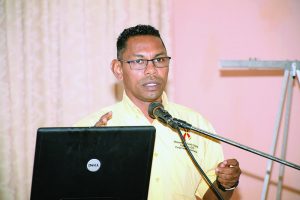 Guyana has, for some time, been in the grip of a drug shortage. Previously, Public Health Minister Volda Lawrence had said that, in 2016 and 2017, several firms were awarded contracts to supply pharmaceuticals to the health sector but failed to deliver. This resulted in shortages that led to her authorising the issuance of an 'emergency' contract for $605 million to ANSA McAL.
The International Pharmaceutical Agency (IPA) was one of those companies that failed to supply all of the drugs it was awarded, because it was not qualified to import some specialised pharmaceuticals.
In January 2016, IPA was awarded two contracts to supply the Georgetown Public Hospital with pharmaceuticals and medical supplies. On one of the contracts — for $36.5 million — the company delivered only 80 per cent of the pharmaceuticals because it was not qualified to supply the remainder.
The remaining 20 per cent of drugs consisted of narcotics, including morphine, which required special certification for importation. But the company was not registered to import those categories of drugs and was therefore denied a licence by the GA-FDD.
Head of the Food and Drugs Department, Marlon Cole, had explained to <<Guyana Times>> that in order for a firm to import narcotics-type pharmaceuticals, it must be registered in order to be granted a licence. Cole said that in the case of IPA, the company was not registered.
But it is argued that pre-qualification (a practice from which Government has moved away) could have prevented a company not registered to provide specialised drugs from getting the contract.