Daniel McLennon, also called "Dutty", was on Thursday arraigned for the murder of Corentyne businessman Lomenzo Jhonny, whose body was discovered on February 27 near his Portuguese Quarters home.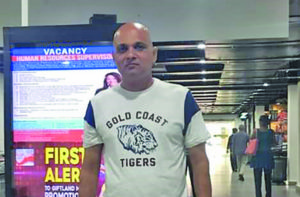 McLennon appeared before New Amsterdam Magistrate Peter Hugh, and was not required to plead to the indictable charge which alleged that he murdered the businessman. Several men have already been charged and remanded to prison for the murder.
McLennon was remanded to prison until June 2, and the matter has been transferred to the Albion Magistrate's Court.
It was reported that on February 27, 2020, Jhonny's body was discovered in a yard about 400 metres from his home. His feet were bound together with a shoelace, and the sweater he was seen wearing the evening before was found a few feet away from the body. A pair of scissors and a piece of wood were also found near to the body. There was a wound to his back and bruises to his hand, while his head and face appeared to be swollen.
When Police went to his home, they found that the front door was not locked. The inside of the house was ransacked, and a safe and other items were reportedly removed from the building. Investigators subsequently received information about the whereabouts of the safe, which contained an undisclosed amount of cash.
The safe was subsequently recovered and approximately $2M in cash was found.
Navendra Narine, Gopaul Ramgobin, Satram Khuslay and Bilal Mc Lennon were jointly charged with murder when they made a court appearance in March, and were remanded until April 17.