Health authorities in Region Ten (Upper Demerara-Berbice) have taken a decision to use the Wismar Hospital as an isolation facility for COVID-19 patients.
This announcement came two days after a Lindener who had been transferred from the Mackenzie Hospital to the Georgetown Public Hospital on Monday had been tested positive for COVID-19. The patient had reportedly visited the Mackenzie Hospital with several respiratory issues, and after his condition had worsened, a decision was taken to have him transferred to the city hospital.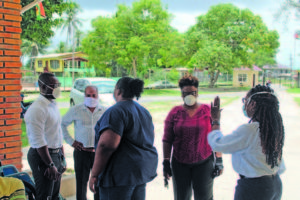 At a meeting between Public Health Ministry officials and Region 10 Health officials Dr Pansy Armstrong, Dr Joseph London and Dr Steve Mark, it was decided, after the various locations had been reviewed, to use the Wismar Hospital.
Accompanied by the officials from Georgetown, the Region 10 team toured the facility, and it was revealed that 14 rooms, along with other facilities, would be installed in the first phase to aid the region in its isolation plan for COVID-19 patients.
Emergency Medicine Specialist Dr Tracey Bovell expressed satisfaction with the standards and readiness of Region 10, and stressed that COVID-19 patients would be placed at a location where doctors would be in a position to better treat them.
Dr Bovell also identified the required systems that needed to be implemented to ensure that those in isolation are properly cared for, while ensuring that the rest of the hospital can continue its operation without any interference and/or interruption.
Dr Armstrong stressed that the Linden Hospital would continue to render several services, while noting that COVID-19 would be just another service being provided to the people of Region Ten.
To ensure the health sector in Region 10 is not overloaded, she disclosed, three of the services currently being offered at the Wismar Hospital would be moved to the Mackenzie Hospital.
Dr Bovell, who met with the engineers attached to the RDC, disclosed that the first phase would be ready within a week's time.
She said that all systems and measures are being taken to ensure that the health officials of Region Ten remain alert, proactive, and ready to handle any situation that may arise as a result of the disease.
She commended the unified position taken by the three top medical officials of Region 10, and declared that it would certainly further advance health within the region.
She declared how very impressed she was with the overwhelming support and assistance being offered by the REO and team, and stressed that despite limited financing being available because of the constraints currently affecting funding for the budget, the REO has demonstrated his commitment and determination to ensure that Region Ten is not only ready, but is aggressively moving ahead so as to ensure that they can effectively and adequately address the issues of COVID-19 when these present themselves.
Meanwhile, Region 10 Executive Officer (REO) Orrin Gordon has assured that the facilities would be fully ready and operational within two to three weeks' time.